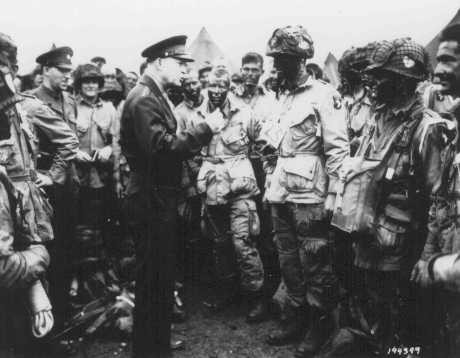 The 101st Airborne Division during World War II
In 1985, the United States Holocaust Memorial Museum and the US Army's Center of Military History initiated a program to honor US Army divisions that took part in the liberation of Nazi camps. To date, 36 divisions, including the 101st Airborne Division, have been recognized as liberating units.
101st Airborne Division Campaigns during World War II
Established in 1942, the 101st Airborne Division parachuted into Normandy, France, near Utah Beach on D-Day (June 6, 1944). There, the "Screaming Eagles" division engaged in fierce fighting with German forces.
In September 1944, the unit was dropped into the Netherlands, where it captured the city of Eindhoven. The 101st was deployed to Belgium during the Battle of the Bulge in December 1944 and was subsequently surrounded in Bastogne by German troops. The unit refused to surrender and held out until the 4th Armored Division arrived to provide it with badly needed support. In January 1945, the 101st moved into Alsace; in April, its troops advanced into the Rhineland. By war's end, the division had reached the Bavarian Alps.
The 101st Airborne Division and the Liberation of Kaufering
During the 101st's drive into southern Germany, the unit uncovered Kaufering IV, one of 11 camps in the Kaufering complex in the Landsberg region. The Kaufering complex was under the administration of the Dachau concentration camp. At its height, the camp held more than 3,600 prisoners, but in the days before US troops arrived, the SS had evacuated many of the prisoners on a death march south in the direction of Dachau. Hundreds of inmates were too ill or weak to make the trek, so the SS guards set fire to the barracks to prevent their liberation by US troops. When the 12th Armored Division and 101st Airborne Division arrived at Kaufering IV on April 27 and 28, respectively, the soldiers discovered some 500 dead inmates. In the days that followed, the US Army units ordered the local townspeople to bury the dead.
Recognition as a Liberating Unit
The 101st Airborne Division was recognized as a liberating unit by the US Army's Center of Military History and the United States Holocaust Memorial Museum in 1998.
101st Airborne Casualty Figures
Casualty figures for the 101st Airborne Division, European theater of operations:
Total battle casualties: 9,328
Total deaths in battle: 2,155
101st Airborne Division Nickname
The nickname of the 101st Airborne Division, "Screaming Eagles," originates from the division's insignia, a bald eagle on a black shield. "Old Abe" was the eagle mascot of a Wisconsin regiment during the Civil War. The 101st was formed as a reserve unit in Wisconsin shortly after World War I and included "Old Abe" as part of the division's insignia.
Critical Thinking Questions
What challenges did Allied forces face when they encountered the camps and sites of other atrocities?
What challenges faced survivors of the Holocaust upon liberation?