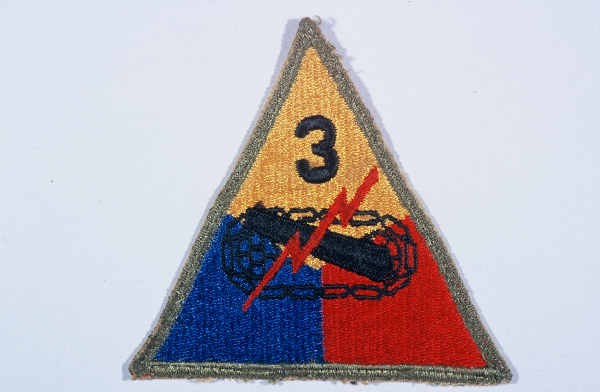 The 3rd Armored Division during World War II
As Allied troops moved across Europe in a series of offensives against Nazi Germany, they found tens of thousands of concentration camp prisoners in deplorable conditions. Malnutrition and disease were rampant, and corpses lay unburied. The soldiers reacted in shock and disbelief to the evidence of Nazi atrocities. In addition to burying the dead, the Allied forces attempted to help and comfort the survivors with food, clothing and medical assistance.
3rd Armored Division Campaigns during World War II
Created in 1941, the 3rd Armored Division landed on the Normandy beaches of France in late June 1944, just weeks after D-Day (June 6), the massive Allied invasion of western Europe. The "Spearhead" division advanced rapidly eastward, reaching the German border by mid-September. During the German winter offensive into the Ardennes, the Battle of the Bulge, the division was redeployed to Belgium. In March 1945, the 3rd Armored Division advanced into Germany, capturing the city of Cologne and crossing the Rhine River. In April, it advanced eastward into Thuringia and continued the push east until war's end.
The 3rd Armored Division and the Liberation of Dora-Mittelbau
On April 11, 1945, the 3rd discovered the Dora-Mittelbau concentration camp. The division first arrived on the scene, reporting back to headquarters that it had uncovered a large concentration camp near the town of Nordhausen. Requesting help from the 104th Infantry Division, the 3rd immediately began transporting some 250 ill and starving prisoners to nearby hospital facilities.
Recognition as a Liberating Unit
The 3rd Armored Division was recognized as a liberating unit by the US Army's Center of Military History and the United States Holocaust Memorial Museum in 1985.
3rd Armored Casualty Figures
Casualty figures for the 3rd Armored Division, European theater of operations:
Total battle casualties: 9,243
Total deaths in battle: 2,147
3rd Armored Division Nickname
"Spearhead" was adopted as the nickname of the 3rd Armored Division in recognition of the division's role as the spearhead of many attacks during the liberation of France in 1944.
Critical Thinking Questions
What challenges did Allied forces face when they encountered the camps and sites of other atrocities?
What challenges faced survivors of the Holocaust upon liberation?