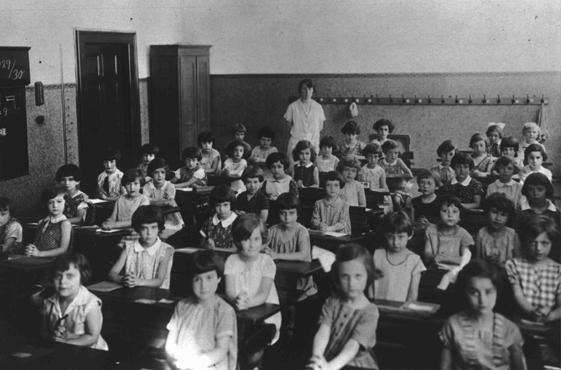 Germany: Jewish Population in 1933

According to the census of June 16, 1933, the Jewish population of Germany, including the Saar region (which at that time was still under the administration of the League of Nations), was approximately 505,000 people out of a total population of 67 million, or somewhat less than 0.75 percent. That number represented a reduction from the estimated 523,000 Jews living in Germany in January 1933; the decrease was due in part to emigration following the Nazi takeover in January. (An estimated 37,000 Jews emigrated from Germany during 1933.)
Some 80 percent (about 400,000) of the Jews in Germany held German citizenship. The remainder were mostly Jews of Polish citizenship. Many of the Polish Jews had been born in Germany and had permanent resident status.
About 70 percent of the Jews in Germany lived in urban areas, with 50 percent of all Jews living in the 10 largest German cities. The largest Jewish population center was in Berlin (about 160,000 in 1925), representing less than 4 percent of the city's entire population. Other large Jewish population centers included Frankfurt am Main (about 26,000), Breslau (about 20,000), Hamburg (about 17,000), Cologne (about 15,000), Hannover (about 13,000), and Leipzig (about 12,000). Nevertheless, in 1933 one in five German Jews still lived in small towns.
Critical Thinking Questions
Considering that the Jewish population was less than 1% of the total population, why did the Nazis consider the German Jews a grave threat to the German people?
Why do governments target small minorities for persecution and repression?
How can societies, communities, and individuals reinforce and strengthen the willingness to stand up for others?
How can knowledge of the events in Germany and Europe before the Nazis came to power help citizens today respond to threats of genocide and mass atrocity in the world?
Learn about the lives of the Jews in Germany before 1939.