Hürtgen Forest
Fighting in the Hürtgen Forest resulted in tens of thousands of American casualties, as the US Army attempted over six months to pierce this heavily fortified part of the German border defenses.

After they broke out of Normandy and advanced rapidly to liberate France and Belgium, and portions of the Netherlands, Allied forces reached the German border fortifications, the Siegfried Line, in mid-September 1944. US units also advanced towards the vital Roer River dams that they sought to capture in order to prevent the Germans from flooding areas to the north, thus delaying the advance into Germany itself.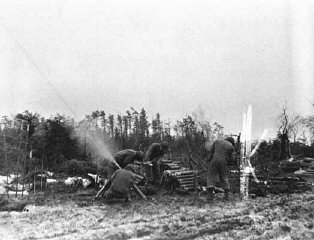 The most direct route to the dams lay through the Hürtgen Forest, a man-made forest preserve of densely packed fir trees in rough terrain. It was also one of the most heavily fortified areas of the Siegfried Line, some 200 square miles of dense woods, deep ravines, and high ridges. American troops repeatedly attacked that fall in an attempt to batter their way through hundreds of concrete German fortifications, made up of pillboxes surrounded by mine fields and supported by artillery. Several US divisions took serious losses during the fighting, measuring their advance in yards as they captured German positions one by one. The German offensive in Belgium in mid-December, the Battle of the Bulge, halted any further advance into the Hürtgen forest.
Not until early February was this attack renewed; the dams were captured after several days of heavy fighting. Although some damage to the dams delayed the attack across the Roer River for two weeks, by the end of February six US divisions had successfully crossed the Roer River and begun racing toward the Rhine, the last natural barrier to the heart of Germany.
This arduous campaign resulted in approximately 33,000 American casualties.
Series:

Allied Military Advances in the West
Critical Thinking Questions
How did this campaign affect the course of the war?
What was the relationship between the progress of the war and the mass murder of Europe's Jews?