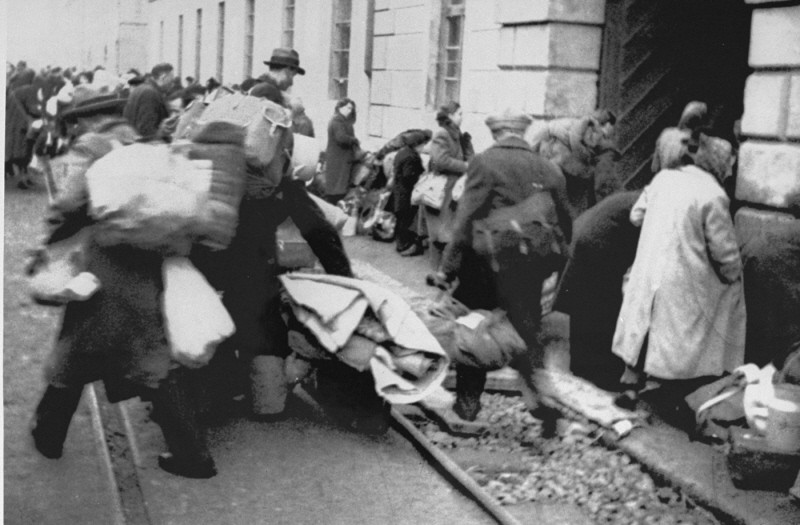 The Holocaust in Bohemia and Moravia
Overview
According to the 1930 census, 356,830 persons in the Czechoslovak Republic identified themselves as Jews by religion: 117,551 in Bohemia and Moravia, 136,737 in Slovakia, and 102,542 in Subcarpathian Rus.
The partition of Czechoslovakia in 1938–1939 determined the fate of its Jews during World War II. After the breakup of Czechoslovakia, approximately 118,310 persons defined as Jews lived in the Protectorate of Bohemia and Moravia. Before 1941, approximately 26,000 Jews were able to emigrate.

During the Holocaust, the Germans and their collaborators killed approximately 263,000 Jews who had resided in the territory of the Czechoslovak Republic in 1938.
Deportations from the Protectorate of Bohemia and Moravia
In November 1941, RSHA chief Reinhard Heydrich ordered the creation of a camp-ghetto at Theresienstadt, 37.5 miles (60 km) north of Prague. Between 1941 and late 1944, the German authorities, assisted by local Czech gendarmerie, deported 73,603 Jews from Prague, Brno, Ostrava, Olomouc, and other towns of the Protectorate to Theresienstadt. Most stayed only briefly in Theresienstadt, which served as a transit camp for Protectorate Jews. SS and police personnel deported the vast majority to killing sites in the Baltic States and transit camp-ghettos in District Lublin in occupied Poland in 1941–1942 and, from 1942 on, to Auschwitz.
Of 82,309 Jews deported from the Protectorate, the Germans and their collaborators killed approximately 71,000 in the Holocaust. The occupation authorities and their Czech collaborators killed another 7,000 Protectorate Jews in Bohemia and Moravia. By 1945, some 14,000 Protectorate Jews remained alive in the Czech lands.
Deportations to Theresienstadt
From 1942 to 1945, German SS and Police deported tens of thousands of Jews residing in the so-called Greater German Reich, along with a few thousand Dutch, Slovak, and Hungarian Jews, to Theresienstadt. From Germany came 42,821 Jews, from Austria 15,266, from the Netherlands 4,894, from Slovakia 1,447, and from Hungary 1,150. In addition 1,260 Jewish children arrived at Theresienstadt from the Bialystok District in German-occupied Poland, 476 Jews from Denmark, and 20 other Jews. The vast majority of these Jews either died in Theresienstadt or were deported to Auschwitz.
Deportations from and Deaths in Theresienstadt
Of nearly 141,184 Jews to reside in Theresienstadt, the Germans deported 88,202 to the east, where most of them were killed. 33,456 died in Theresienstadt itself. 2,418 either escaped or were released by the Germans in 1945.
After accounting for 276 Jews arrested by the Gestapo in the camp-ghetto during its 3.5 years of existence, 16,832 Jewish inhabitants remained alive at Theresienstadt when Soviet troops entered the camp-ghetto on May 9, 1945.