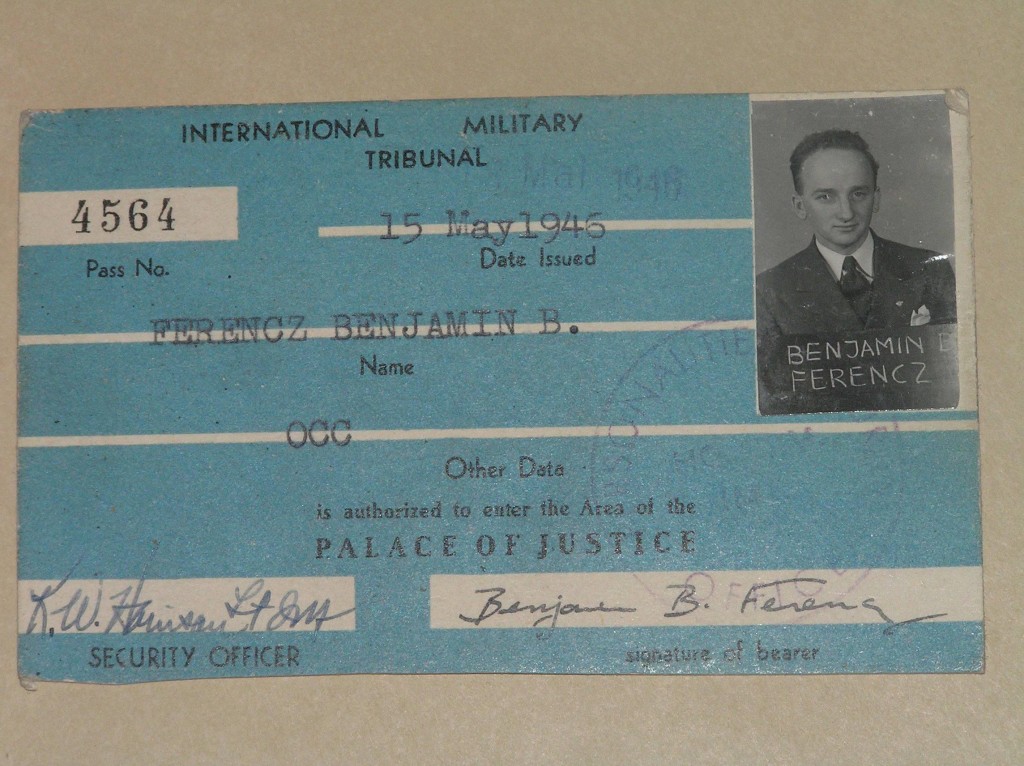 "Nuremberg taught me that creating a world of tolerance and compassion would be a long and arduous task. And I also learned that if we did not devote ourselves to developing effective world law, the same cruel mentality that made the Holocaust possible might one day destroy the entire human race."
—Benjamin B. Ferencz
At the International Military Tribunal (IMT) and Subsequent Nuremberg Proceedings, documentation of evidence and prosecution of crimes were intertwined. Benjamin B. Ferencz engaged in both of these critical tasks.
Ferencz was born in the Carpathian Mountains of Transylvania in 1920. When he was ten months old his family moved to the United States. After graduation from Harvard Law School in 1943, he joined an anti-aircraft artillery battalion preparing for the invasion of France. As Nazi atrocities were uncovered at the end of the war, Ferencz was transferred to a newly created War Crimes Branch of the US Army to gather evidence of the crimes.
Ferencz was sent with about 50 other researchers to Berlin to scour Nazi offices and archives. In their hands lay overwhelming evidence of genocide. The Einsatzgruppen committed some of the most heinous atrocities of the Holocaust, including the massacres of around one million Jews and tens of thousands of Soviet political commissars, partisans, Roma, and disabled persons.
Ferencz became chief prosecutor for the United States in what the Associated Press called "the biggest murder trial in history," the Einsatzgruppen Case of the Subsequent Nuremberg Proceedings. Twenty-four defendants were charged with murdering over a million people. Ferencz was only 27 years old. It was his first case.
The Nuremberg tribunal noted that
"the charge of purposeful homicide in this case reaches such fantastic proportions and surpasses such credible limits that believability must be bolstered with assurance a hundred times repeated."
Twenty-two of the defendants were found guilty. In all, 14 defendants were sentenced to death, 2 were sentenced to life terms, and 5 received sentences that ranged from 10 to 20 years. One of the guilty was immediately released with time served. Ultimately, only 4 of the 14 death sentences were carried out. The sentences of the other defendants, all convicted mass murderers, were later commuted or reduced.
Ferencz—an active participant in the post-Holocaust trials at Nuremberg—says that his primary objective had been to establish a legal precedent that would encourage a more humane and secure world in the future. Benjamin Ferencz became an outspoken supporter of the International Criminal Court and other efforts to replace the "rule of force with the rule of law."
Today, as part of the Simon-Skjodt Center for the Prevention of Genocide's holistic work to prevent, deter, and address atrocities, the Ferencz International Justice Initiative assists those affected by genocide, crimes against humanity, and war crimes in their pursuit of justice and accountability.