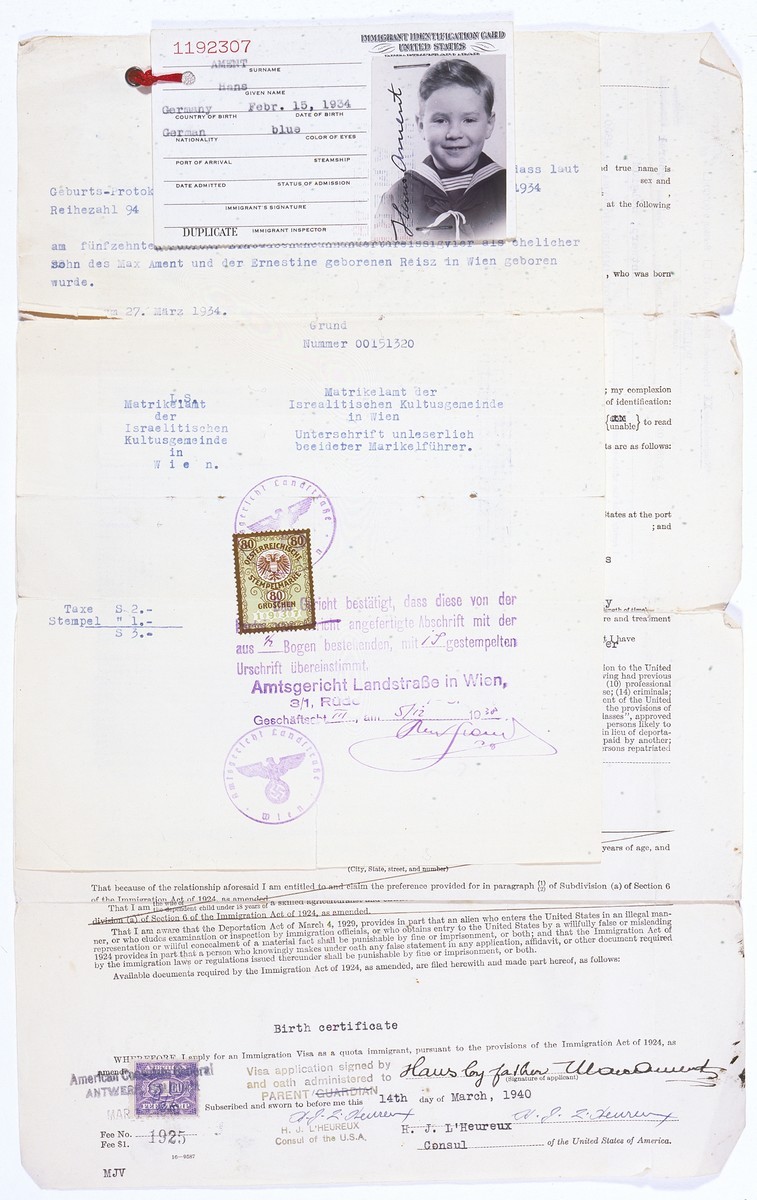 Documents Required to Obtain a Visa
German Jews attempting to immigrate to the United States in the late 1930s faced overwhelming bureaucratic hurdles. It was difficult to get the necessary papers to leave Germany, and US immigration visas were difficult to obtain. The process could take years.
What did refugees need to obtain a US visa in the 1930s?
As the Nazi regime's attacks intensified in the late 1930s, hundreds of thousands of Jews in Germany tried to immigrate to the United States. To enter the United States, each person needed an immigration visa stamped into his or her passport.
Explore the seven steps that were required for those seeking to immigrate to the United States. 
List of documents required
The bureaucratic hurdles facing German Jews attempting to emigrate in the late 1930s were overwhelming. Nations required extensive documentation that was often virtually impossible to obtain. The following is a list of the documents required by the United States to obtain a visa.
Five copies of the visa application
Two copies of the applicant's birth certificate
Quota number (establishing the applicant's place on the waiting list)
Two sponsors:
Close relatives of the prospective immigrant were preferred
The sponsors were required to be US citizens or to have permanent resident status, and they were required to have completed and notarized six copies of an Affidavit of Support and Sponsorship
Supporting documents:
Certified copy of most recent federal tax return
Affidavit from a bank regarding applicant's accounts
Affidavit from any other responsible person regarding other assets (affidavit from sponsor's employer or statement of commercial rating)
Certificate of Good Conduct from German Police authorities, including two copies of each:
Police dossier
Prison record
Military record
Other government records about individual
Affidavits of Good Conduct (after September 1940) from several responsible disinterested persons
Physical examination at US consulate
Proof of permission to leave Germany (imposed September 30, 1939)
Proof that prospective immigrant had booked passage to the Western hemisphere (imposed September 1939)
Critical Thinking Questions
Investigate each required document. Why did authorities require each one?
Which documents might have been be difficult to obtain or otherwise problematic for a Jewish person trying to leave Germany?
Investigate an example of a German Jewish family trying to navigate these bureaucratic hurdles to escape.
What documents are currently required to obtain a visa? Examine the rationale for each and the difficulty each might pose.
The list above is from the United States government. In addition, what regulations and requirements existed in German law for emigration?