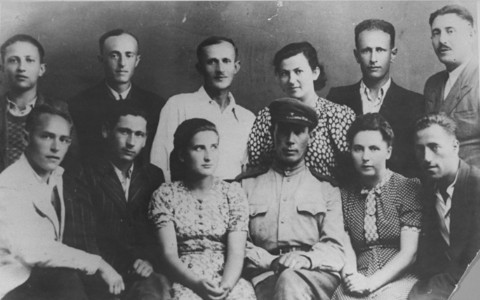 Jewish Uprisings in Camps
Vastly outgunned and outnumbered, some Jews in ghettos and camps resisted the Germans with force. 
Background
Under the most adverse conditions, Jewish prisoners succeeded in initiating resistance and uprisings in some Nazi camps. The surviving Jewish workers launched uprisings even in the killing centers of Treblinka, Sobibor, and Auschwitz-Birkenau. About 1,000 Jewish prisoners participated in the revolt in Treblinka. On August 2, 1943, Jews seized what weapons they could find—picks, axes, and some firearms stolen from the camp armory—and set fire to the camp. About 200 managed to escape. The Germans recaptured and killed about half of them.
Sobibor
On October 14, 1943, prisoners in Sobibor killed 11 SS guards and police auxiliaries and set the camp on fire. About 300 prisoners escaped, breaking through the barbed wire and risking their lives in the minefield surrounding the camp. Over 100 were recaptured and later shot.
Auschwitz
On October 7, 1944, prisoners assigned to Crematorium IV at Auschwitz-Birkenau rebelled after learning that they were going to be killed. The Germans crushed the revolt and murdered almost all of the several hundred prisoners involved in the rebellion.
Other Uprisings
Other camp uprisings took place in the Kruszyna (1942), Minsk-Mazowiecki (1943), and Janowska (1943) camps. In several dozen camps prisoners organized escapes to join partisan units. Successful escapes were made, for example, from the Lipowa Street labor camp in Lublin.
Critical Thinking Questions
What obstacles and limitations did Jews face when considering resistance? What pressures and motivations may have influenced their decisions and actions?
How can societies, communities, and individuals reinforce and strengthen the willingness to stand up for others?
What were some other forms of resistance?