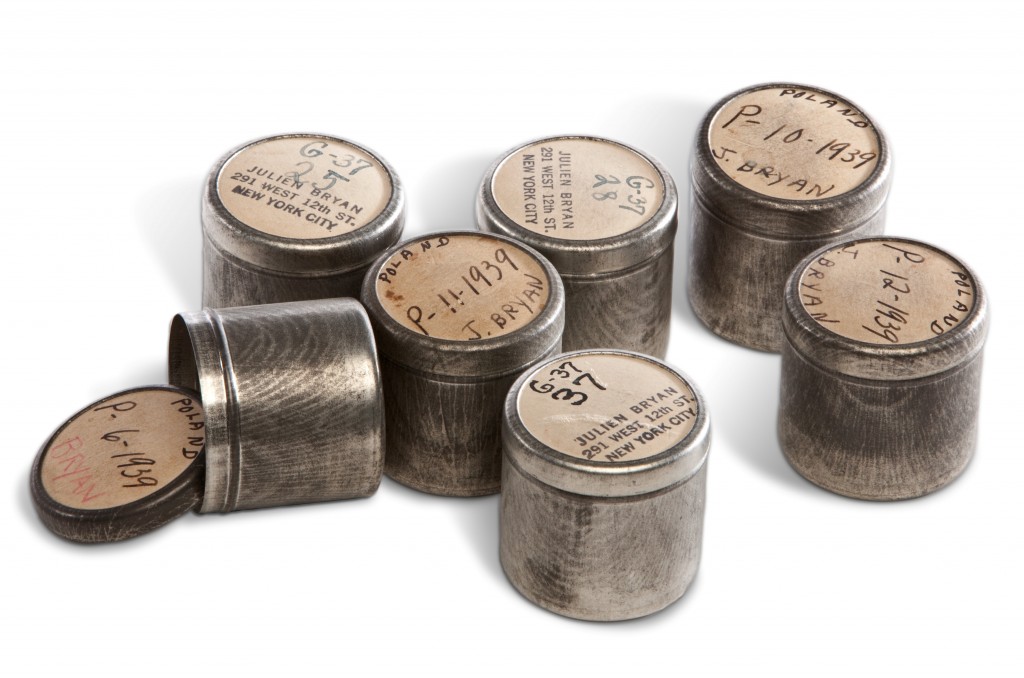 Julien Bryan
Julien Bryan was an important US documentary filmmaker and photographer who captured the everyday life, work, and culture of individuals and communities in many countries around the globe. He was one of the few western photographers left in Warsaw upon the German invasion of Poland.
Introduction
Julien Bryan hailed from Titusville, Pennsylvania, and was a graduate of Princeton University. From an early age he exhibited an interest in world travel. In 1917, between high school and college, he volunteered and served in the ambulance corps in France during World War I, ferrying wounded soldiers from the battlefield to hospitals behind the lines.
During his college years, Bryan started making extensive trips abroad. He funded his foreign travels by giving public slide lectures in the US about the places he visited. By 1930, when he made his first trip to the Soviet Union, Bryan was equipped with a 35mm motion picture camera as well as his still cameras. He made many daring filming trips throughout the Soviet Union in the 1930s, covering Moscow to the tribal areas of the Caucasus Mountains, avant-garde and Jewish theater performances, dance festivals, and the newly established US Embassy, as well as local daily life.
Documenting Nazi Germany in 1937
In 1937, he made an extended trip to Nazi Germany, during which he took film and hundreds of photographs of German people at work and at play, Hitler Youth groups, Nazi leaders, party rallies, daily life in cities and on farms, and evidence of the Nazis' anti-Jewish measures. This material was used in numerous film and slide lectures he delivered at auditoriums and concert halls around the country. Bryan's film footage of Germany was incorporated in two 'March of Time' compilation films in the late 1930s. "Inside Nazi Germany" (1938) created controversy in the US and consternation in Germany, as it clearly portrayed elements of Nazi German persecution and aggression.
Filming in Poland
Bryan's filming in Poland in the mid-1930s captured unique scenes of Jewish life in Warsaw and Krakow and brought him close to the Polish people in cities and on the land. In the first week of September 1939, Bryan, who had been filming in western Europe that summer, found his way to Warsaw just as all foreign reporters, diplomats, and Polish government officials were fleeing the capital in the wake of the German invasion. Realizing that the city and its people faced a devastating onslaught, he decided to stay and capture the historic events. One of the few foreign photographers left in the city, he risked his life to record Warsaw's agony with his cameras.
In his efforts, Bryan received support from the mayor of Warsaw, Stefan Starzynski, who provided him with a car, guide, interpreter, and permit to photograph whatever he liked. From September 7 until September 21, 1939, Bryan stayed in Warsaw filming and photographing the German bombardment and its impact on Warsaw's people.
He was able to leave during a brief truce that was negotiated to allow citizens of neutral countries to get away. Bryan was able to bring his films out, though for a time he was separated from his suitcase of film and feared it was lost. From Warsaw, he was taken to East Prussia, and while waiting for German officials to decide his fate, he hid his films in the chemical container of a gas mask that a fellow American was taking home as a souvenir. Bryan retrieved them six weeks later in New York.
Return to the United States
After his return to the US via Sweden and Norway, Bryan recorded these events in both the book Siege (New York: Doubleday, Doran, 1940) and the short film Siege (RKO Radio Pictures, 1940), nominated for an Academy Award. In 2006, the Librarian of Congress selected Siege for inclusion in the National Film Registry of important cinematic works to be preserved for posterity.
In 1940, Julien Bryan was asked by the Office of War Information to make films (23 in all) about the life and culture of various Latin American countries in an attempt to prevent the type of ethnic and national hatred that had overcome Europe. Bryan had no formal sponsorship or source of funding until he set up the non-profit International Film Foundation (IFF) in 1945.
Postwar Career
For the remainder of his career, he made documentary films for the educational film market, aiming to further world understanding through quality films and encouraging their use by teachers. He collaborated with some of the most innovative animators, artists, and independent producers of the time, including Francis Thompson, who won an Academy Award in 1965 for best short documentary and was one of the pioneers of the 70mm Imax format; Jules Bucher, like Bryan a maker of educational films about foreign countries in Europe and Latin America; and Merce Cunningham, who narrated one of Bryan's films.
At the gala opening of the Martha Graham Dance Company in New York City in 1987, film shot by Julien Bryan and Jules Bucher of Martha Graham performing "Frontier" shortly after she choreographed it in 1935 was shown publicly for the first time.
Julien Bryan's son, Sam Bryan, a teacher and historian who has been fully involved in the film production process as well as in the planning and execution of IFF filming trips since 1960, has served as Executive Director of the Foundation since his father's death in 1974.
In 2003, the United States Holocaust Memorial Museum's Steven Spielberg Film and Video Archive acquired Julien Bryan's film and photographic collections on Poland and Nazi Germany from Sam Bryan and the International Film Foundation.
Critical Thinking Questions
What can be learned from Bryan's films of prewar Warsaw?
What risks and responsibilities do photographers and filmmakers encounter in areas of persecution and combat?