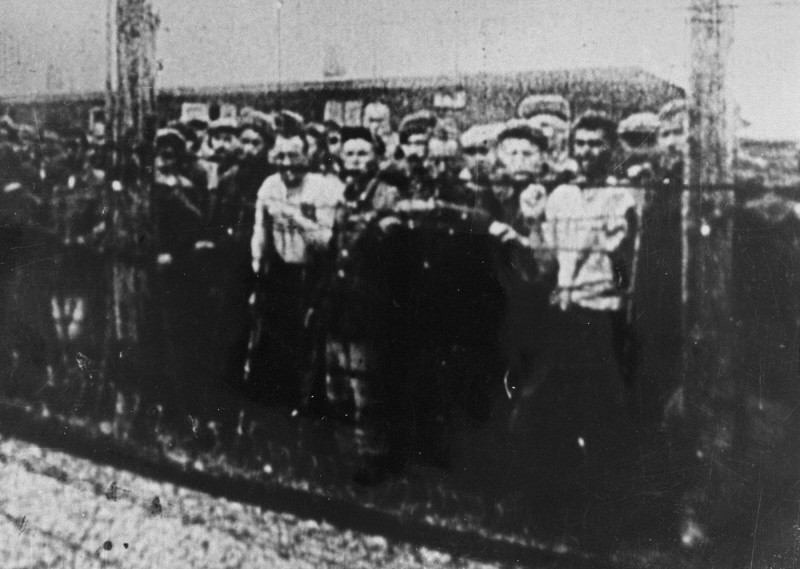 Lublin/Majdanek Concentration Camp: Areas of Research
The total number of prisoners to go through the Majdanek main camp has not yet been recalculated consistent with the latest research. The number of deaths is now estimated at between 80,000 and 110,000 for the main camp alone. Most succumbed to starvation, disease, exposure, and the effects of physical torture or back-breaking labor performed under threat of violence. The SS murdered some prisoners  in the gas chambers, some upon arrival, and more after deeming them too weak to work. The total number of those who died in Majdanek's gas chambers is unknown.
In addition to deaths in the main camp, the SS and police shot between 15,000 and 20,000 Jews in Trawniki and Poniatowa during Operation "Harvest Festival" on November 3 (Trawniki) and November 3-4 (Poniatowa), 1943. The number of Jewish prisoners who died in Majdanek's subcamps between October 1943 and January 1945 is not known. Hence, at a minimum, between 95,000 and 130,000 prisoners died in the Majdanek system between November 1941 and January 1945. Between 89,000 and 110,000 were Jews. At least 20,000 prisoners who were not Jews died at the Majdanek main camp.
Critical Thinking Questions
To what degree was the local population aware of this camp, its purpose, and the conditions within? How would you begin to research this question?
Did the outside world have any knowledge about these camps? If so, what, if any, actions were taken by other governments and their officials?
Further Reading
Barbara Schwindt, Das Konzentrations- und Vernichtungslager Majdanek: Funktionswandel im Kontext der "Endloesung" (Wuerzburg: Koenighausen & Neumann, 2005).
Tomasz Kranz, "Eksterminacja Zydow na Majdanku i rola obozu w realizacji 'Akcji
Reinhardt,'" in Zeszyty Majdanka, Vol. XXII (2003), pp. 7-55.
Tomasz Kranz, "Ewidencja zgonow i smiertelnosc wiezniow KL Lublin" in Zeszyty
Majdanka, Vol. XXIII (2005), pp. 7-51.
Zofia Leszczynska, "Transporty i stany liczbowe obozu," in Majdanek, 1941-1944,
Tadeusz Mencel ed., (Lublin: Wydawn. Lubelskie, 1991).
Czeslaw Rajca, "Problem liczby ofiar w obozie na Madanku," in Zeszyty Madanka, XIV
(1992), pp. 127-131.