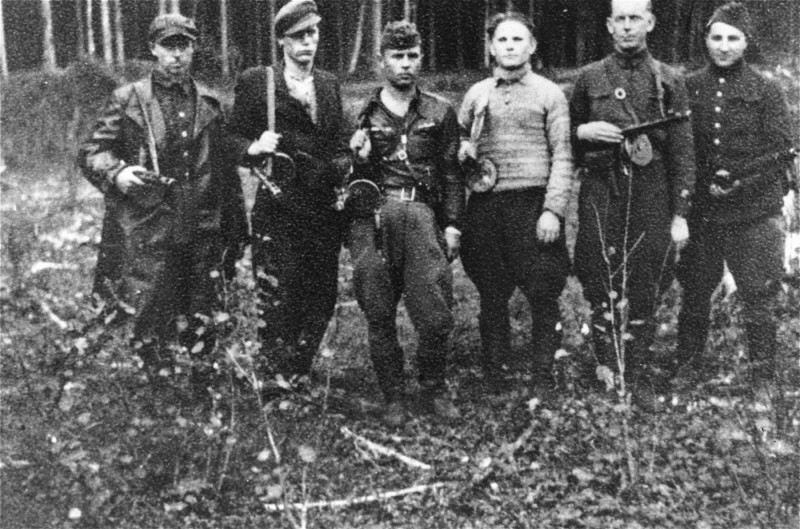 Personal Stories: Jewish Partisans
Despite great obstacles, Jews throughout occupied Europe attempted armed resistance against the Germans and their Axis partners. They faced overwhelming odds and desperate scenarios, including lack of weapons and training, operating in hostile zones, parting from family members, and facing an ever-present Nazi terror. Yet thousands resisted by joining or forming partisan units. Learn about some of their experiences. 
The following list of Jewish partisans features personal stories from the Jewish Partisan Educational Foundation (external link). It is not a comprehensive list of all Jewish partisans, but rather a small sampling to illustrate various personal experiences for educational purposes.
 Abe Asner
Abe's partisan unit grew to several thousand people, including the woman who later became his wife.
Leon Bakst
Leon Bakst was a teenager from Ivie when he escaped from a work camp and hiked to the Naliboki forest with over a dozen other escapees to join the Bielski Brigade.
Charles Bedzow
At age 17, Charles became a Bielski partisan, collecting supplies for the group, scouting, and going on sabotage and ambush missions.
Tuvia Bielski
In the Naliboki forest, Tuvia set up a functioning partisan and family camp, with everyone working to support the community in a variety of ways.
Frank Blaichman
At 21, Frank was the youngest platoon commander in his all-Jewish unit of 400.
Gertrude Boyarski
After Nazi collaborators killed her family, Gertrude convinced the commander of a Russian partisan camp to let her fight.
David Broudo
As a partisan, David ingeniously smuggled munitions supplies destined for the resistance movement in Athens past the German blockades, by emptying milk barrels and filling them with guns.
Harry Burger
A partisan in the First Alpine Division, Harry used his fluency in German to interrogate captured soldiers.
Joe Cameron
Joe found a group of fellow escapees hiding in the woods. They were beginning to organize themselves into a partisan unit when Joe joined them.
Romi Cohn
To reach the partisans in the mountains, Romi forged a German military travel order, sending him to the last German outpost before partisan-controlled territory.
Max Cukier
Max joined the famous Bielski Brigade, where he met and married his wife in the forest.
Marisa Diena
After the Nazis occupied Turin, Marisa fled into the mountains around Torre Pellice to join the partisans, soon becoming the vice-commander of information for her unit.
Bernard Druskin
After joining the partisans, Bernard sabotaged railroad lines and phone lines, and stole food and supplies from the German army.
Don Felson
After Don's brother Stan convinced him to join the partisans, they sought revenge against the Nazis by dynamiting railroads, ambushing German convoys, killing soldiers, and building a reputation for valor.
 Sara Fortis
During the war, Sara went from village to village recruiting women who wanted to fight, forming a band of female partisans.
Eugenio Gentili Tedeschi
In Milan, Eugenio and his friends tore down the antisemitic propaganda posted, their first act of resistance in that city.
Jeff Gradow
In the spring of 1943 the Soviets made contact with Jeff's partisan group, airdropping weapons and explosives and sending in professional Russian paratroopers, well armed and with shortwave radios.
Joseph Greenblatt
For a time, Joseph worked as a member of the Polish underground, raiding a German train depot and aiding in the assassination of a prominent SS official.
Sam Gruber
Sam heard about partisans through a sympathetic Pole and convinced 22 other prisoners of war to escape the camp with him and join the partisans.
Joe and Rose Holm
When partisan groups began allowing a few women to join, Joe appeared on Rose's doorstep. He said, "I'm going; you come with me."
Leon Idas
Shortly after the beginning of the German occupation of Greece in 1941, 16-year-old Leon joined a group of partisans.
Leah Johnson
Leah and her family escaped with the help of a guide sent by Tuvia Bielski and joined the Bielski Brigade in the Naliboki forest, where they survived until the end of the war.
Jack Kakis
In Athens, Jack became involved with the underground movement by bombing factories and writing anti-German slogans on the city streets under the cover of darkness.
Ben Kamm
Ben joined the Russian partisan group of more than 1,600 fighters led by General Fyodorov.
Vitka Kempner
In the Vilna ghetto, Vitka and others, including Aba Kovner, successfully organized a resistance movement called the United Partisan Organization (FPO) and began to arm themselves, smuggling weapons through the sewer system.
Abba Kovner
In 1941, Abba Kovner galvanized the divided factions of the Vilna ghetto resistance to join together and fight back against their would-be murderers, creating the United Partisan Organization (FPO).
Joe Kubryk
Village by village, Joe and other teenagers counted men, checked equipment, noted who the ranking officers were and where they were camped, providing information to fellow partisans who mined bridges and railroads to disrupt German military activity.
Rae Kushner
After escaping from Novogrudek ghetto, Rae Kushner fought with the Bielski partisan unit.
Solomon Lapidus
Sol Lapidus, a partisan from Minsk, escaped a prisoner-of-war camp and joined the Chokulov brigade as a demolitions expert.
Sam Lato
Sam became a part of the resistance in the Baranovichi ghetto even before he learned about the partisans.
Miles Lerman
Escaping a slave labor camp, Miles joined a Jewish partisan unit formed by other escapees.
Samuel Levi
Samuel was in a  partisan group called Chavdar that roamed Bulgaria, near the border with Yugoslavia.
Benjamin Levin
Escaping the Vilna ghetto, 16-year-old Benjamin Levin fled to the woods and joined a brigade of partisan fighters under the leadership of an old forester named Batya.
Noah Lewin
As a partisan Noah became versed in the arts of sabotage, cutting down telegraph wires, taking apart railroad tracks, mining roads, and conducting sniper attacks against German forces.
Walter Marx
Walter escaped from Luxemburg to Italy, where he joined the Italian partisans.
Bernard Musmand
Posing as a Catholic at a boarding school, Bernard became a courier for the Sixième, a resistance group in Rodez, France.
Dora Oltulski
Dora hid with a non-Jewish farmer for a year before joining her sister and brother-in-law in the forests controlled by the partisans.
Sonia Orbuch
After hiding in the freezing woods for months, Sonia was able to join a Russian partisan detachment.
Silvio Ortona
Silvio became a member of the Fratelli Bandiera, which began conducting raids and sabotage missions in spring 1943.
Martin Petrasek
While hiding at a monastery, Martin found a partisan pamphlet calling on Slovaks to resist the occupation.
Meir Porges
As a rebel soldier, Meir learned how to use a gun and helped his countrymen cut off the retreat lines of the fleeing Germans.
Norman Salsitz
In October of 1942, Norman organized an escape group of 55 people and fled to the surrounding forest.
Faye Schulman
During her time as a partisan, Faye took over a hundred photographs. She is the only known Jewish partisan photographer.
Brenda Senders
After escaping a death camp and spending several months in hiding, Brenda connected with a large Soviet-backed partisan unit made up of 1,600 people.
Leon Senders
In 1943, armed with an automatic rifle and a shortwave radio, Leon parachuted into the Lithuanian forest to conduct espionage operations.
Mira Shelub
Mira's group engaged in sabotage against the Nazis and their Polish collaborators by disrupting communications and transportation to the war front.
Allen Small
When the Nazis came to take his family away, Allen Small's mother hid him in the attic, all the while telling him, "you must survive!"
Simon Trakinski
Simon worked as a spy and a saboteur in liaison with a partisan unit established by the Russian army, gathering information about troop and supply movements, mining roads, and blowing up bridges.
Alexander White
Alexander escaped a forced-labor camp and fled to the mountains, where the Yugoslavian partisans, led by Tito, captured him.
Eta Wrobel
Eta helped organize an exclusively Jewish partisan unit of close to eighty people.
Shalom Yoran
After spending the cold winter months of 1942 in an underground bunker, Shalom and his comrades sought out the local partisan brigade.
Critical Thinking Questions
What obstacles and limitations did Jews face when considering resistance?
What pressures and motivations may have influenced each individual's decisions and actions?
How can societies, communities, and individuals reinforce and strengthen the willingness to stand up for others?