Peter Bergson
Zionist and activist Peter H. Bergson advocated in the United States for the establishment of a Jewish Army and for the rescue of European Jews during the Holocaust. His aggressive lobbying tactics angered the leaders of many American Jewish organizations. Nevertheless, he successfully alerted Americans to the ongoing murder of European Jews and increased pressure on the Roosevelt administration to initiate rescue efforts.
Key Facts
1

Peter Bergson founded and led organizations during World War II that raised public awareness in the United States about the murder of European Jews.

2

Bergson boldly challenged the US government, especially the State Department, and American Jewish organizations to take decisive action to rescue Jews.

3

In 1943, Bergson's organizations staged the We Will Never Die pageant and organized a rabbis' march on Washington to alert the American people about the Nazi regime's mass murder of Jews.
Hillel Kook (1915–2001) was born in Lithuania in 1915 and moved with his family to Palestine in 1925. He became a militant Zionist and adopted the pseudonym Peter H. Bergson to avoid embarrassing his family, which included a prominent rabbi.
Bergson joined the Revisionist Zionist movement's military arm, known as the National Military Organization (Irgun Zvai Leumi; IZL), in the early 1930s. The Revisionist Zionist movement aimed  to force Britain (which controlled Palestine under the British Mandate)  to grant Jewish statehood on both banks of the Jordan River and to allow unlimited Jewish immigration into Palestine. The IZL conducted violent reprisals for Arab attacks on Jews and also attacked the British. Consequently, the British government considered the IZL to be a terrorist organization. British government representatives later warned the State Department about Bergson's connection to the IZL, calling him a "bomb-thrower."
In 1938 and 1939, Bergson worked for IZL in Poland, organizing the smuggling of Polish Jews to Palestine. He then accompanied Vladimir (Ze'ev) Jabotinsky to the United States in 1940 as a representative of the IZL. After Jabotinsky died in August 1940, Bergson remained in the US to continue his activities.
Bergson's primary assignment in the United States was to mobilize support for the IZL, facilitate creation of Jewish military units to fight against Nazi Germany, and gather support for a Jewish state in Palestine. Bergson founded a series of interlocking organizations, including the Committee for a Jewish Army of Stateless and Palestinian Jews, the American League for a Free Palestine, the Emergency Committee to Save the Jewish People of Europe, and the Hebrew Committee for National Liberation. Many prominent figures participated in these organizations' conferences and publicity campaigns, including Congressman Will Rogers Jr., writer Dorothy Parker, US Interior Secretary Harold Ickes, dramatist Ben Hecht, and artist Arthur Szyk.
Bergson used direct—and often bombastic—appeals to the American public and to members of Congress to demand the creation of a Jewish army, to rescue Jews from Nazi terror by any means , and finally for the creation of a Hebrew state. He worked outside the more conservative channels used by the leaders of American Jewish organizations to influence government action. These leaders often supported Bergson's overall goals, but opposed his brash tactics as counterproductive and resented his public criticism of their organizations.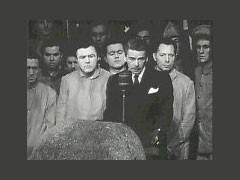 While it is difficult to assess the success of Bergson's activities, they resulted in a greater public awareness of the Holocaust, and helped create an atmosphere conducive to changes in American rescue policy. The Committee for a Jewish Army's spring 1943 staging of the We Will Never Die pageant, which toured the United States, and the Emergency Committee's October 1943 rabbis' march on Washington raised public awareness about Nazi mass murder. In November 1943, congressional supporters of Bergson's organizations called on Roosevelt to create a governmental commission to rescue European Jews. These efforts influenced Roosevelt's decision to create the War Refugee Board in January 1944.
In May 1944 Bergson created the Hebrew Committee for National Liberation and established a "Hebrew Embassy" in Washington, DC, arguing that his committee was the rightful representative of Jews in Palestine and of the surviving Jews of Europe. This organization ceased operation when the state of Israel was established in 1948, and Bergson later returned to Israel.
Bergson—who reverted to using his given name, Hillel Kook, when he returned to Israel—was elected to the first Knesset (national legislature of Israel) as a member of the Herut party, serving from 1949 to 1951. Disillusioned with his political experience, he left Israel in 1951 with his wife Betty and daughter Astra, and emigrated to the United States. In 1968, four years after his wife's death, he returned to Israel with his daughters Astra and Rebecca. He remarried in 1975 and lived near Tel Aviv until his death in 2001.
Critical Thinking Questions
When did confirmed knowledge of the mass murder of the Jews of Europe come to the American public, and when did Bergson begin his multiple efforts to raise awareness of the tragedy?
Investigate other ways in which the American public and government learned about the mass murder? What other individuals or organizations pressured the US government to act?
What pressures and motivations influence individuals and groups to protest societal inaction about a tragedy or persecution of a minority? Investigate instances in your country's history in which individuals began a protest or awareness movement?