During World War II, ghettos were city districts (often enclosed) in which the Germans concentrated the municipal and sometimes regional Jewish population and forced them to live under miserable conditions. Ghettos isolated Jewish communities by separating them both from the non-Jewish population and from other Jewish communities. The Germans established at least 1,000 ghettos in German-occupied and annexed Poland and the Soviet Union alone.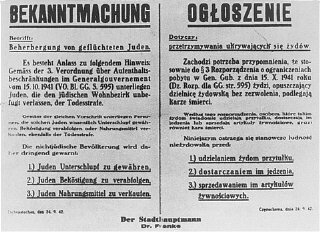 The Germans regarded the establishment of ghettos as a provisional measure to control and segregate Jews while the Nazi leadership in Berlin deliberated upon options to realize the goal of removing the Jewish population.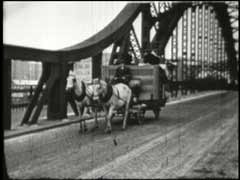 There were three types of ghettos:
Closed ghettos (situated primarily in German-occupied Poland and the occupied Soviet Union) were closed off by walls, or by fences with barbed wire. The German authorities compelled Jews living in the surrounding areas to move into the closed ghetto, thus exacerbating the extremely crowded and unsanitary conditions. Starvation, chronic shortages, severe winter weather, inadequate and unheated housing, and the absence of adequate municipal services led to repeated outbreaks of epidemics and to a high mortality rate. Most ghettos were of this type.
Open ghettos had no walls or fences, but there were restrictions on entering and leaving. These existed in German-occupied Poland and the occupied Soviet Union, as well as in Transnistria, that province of Ukraine occupied and administrated by Romanian authorities.
Destruction ghettos were tightly sealed off and existed for between two and six weeks before the Germans and/or their collaborators deported or shot the Jewish population concentrated in them. These existed in German-occupied Soviet Union (especially in Lithuania and the Ukraine), as well as Hungary.
Critical Thinking Questions
Why were there three different types of ghettos?
How did the differences between the three types of ghettos affect the lives of the Jews, if at all?