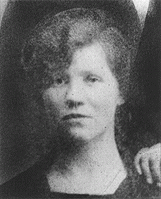 Alta Koppff Himmelfarb
Born: 1907
Koprzewnica, Poland
The daughter of a rabbi, Alta was one of six children raised in a Yiddish-speaking Jewish family in the town of Koprzewnica [in Poland]. Alta was one of the prettiest girls in town, and when she was 19 she married Shaul Himmelfarb, a childhood friend. Shaul opened a grocery store, and Alta ran the store on market days when Shaul was away buying merchandise. The couple had three children.
1933-39: On September 1, 1939, Germany invaded Poland. Soon after, German troops entered Koprzewnica. While fighting between German and Polish forces could still be heard nearby, the Germans emptied the homes and ordered the terrified townspeople to assemble in the central square. After about five hours, the townspeople were allowed to return to their homes. The troops moved into the town's school and kept their horses in the synagogue.
1940-42: For the next two years, the Germans regularly raided Shaul's store for supplies. Shaul was forced to cut his beard which he wore as a sign of piety. Afraid to venture out, he mostly stayed at home or in the store. Alta would disguise herself as a peasant and sneak out of town to buy food and supplies. In February 1942 the Germans established a ghetto in Koprzewnica. That June, Alta's eldest son was deported to work at a munitions factory.
On October 31, 1942, German SS and Ukrainian auxiliaries rounded up more than 1,000 Jews in Koprzewnica. All were deported to the Treblinka extermination camp.