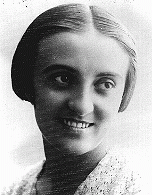 Hanna Ellenbogen
Born: November 23, 1913
Rozwadow, Poland
Hanna was one of three children born to a Jewish family in the central Polish town of Rozwadow. Hanna's father was a produce wholesaler. As a young girl, Hanna was active in Benei Akiva, a Zionist youth organization. She attended public school in Rozwadow, and then went on to business school.
1933-39: After finishing business school, Hanna took classes in childhood education. She and a friend then set up a nursery school in Rozwadow a few blocks from Hanna's home. The nursery had been open only a few years when Germany invaded Poland in 1939. Weeks after the invasion, the Germans evicted Hanna's family from their home. With nowhere to go, Hanna decided to follow her brother, who had fled to the Soviet-controlled city of Lvov.
1940-41: In Lvov Hanna managed to get a job in a restaurant where she met Zygmunt Gozdinski, a young man who had fled to Lvov from German-occupied Kielce. In early 1940 he decided to return to his family in Kielce and asked Hanna to go with him. Since Germany and the Soviet Union were allied at that time, it was possible to traverse the border between German- and Soviet-occupied Poland. In 1941 Hannah's family in Lvov received wedding pictures from Hanna and Zygmunt--the couple had married in Kielce.
Zygmunt returned to Lvov to get false papers for himself and Hanna. During his absence, Hanna was taken in a German roundup of Jews in Kielce. She was never heard from again.