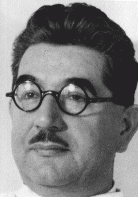 Nikola Mrvos
Born: September 16, 1886
Vrbovsko, Yugoslavia
The oldest of five children, Nikola was born in a small village in the Croatian part of Yugoslavia. Like his parents, Nikola was baptized in the Serbian Orthodox faith. After receiving his medical degree from Prague University, he married, and in 1912 moved with his wife to Serbia. During World War I he served in the Serbian army, and then settled in Novi Sad where he co-owned a medical clinic.
1933-39: Nikola and his wife raised three children in Novi Sad. Then difficult times brought on by the 1930s economic depression forced Nikola to close his medical clinic. The Mrvos family moved to the Croatian city of Zagreb, where Nikola found employment as the director of medical services for Yugoslavia's newly established health insurance administration.
1940-41: The Germans invaded Yugoslavia on April 6, 1941. Four days later, they entered Zagreb and Croatian fascists [Ustase] came to power. Because of anti-Serb discrimination, Nikola was arrested by Croatian fascists on April 12 and imprisoned in Kerestinec Castle outside Zagreb. During the night of July 13, some communist prisoners escaped. As a result, the police closed the prison down and transferred the prisoners to a Croatian concentration camp in the south in Gospic. Shortly after, they were transferred to a camp at Jadovno.
In August 1941 in Jadovno, Croatian fascists killed Nikola and threw his body into a limestone cave along with those of hundreds of murdered Serbs, Jews and communists.