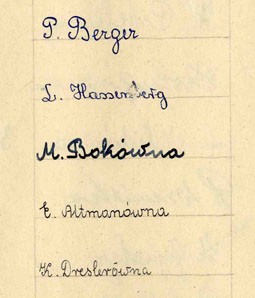 Karolina Dresler
The Jewish children of Lodz suffered unfolding harsh realities after the German invasion of Poland. Some of the children, among them Karolina Dresler, recorded their experiences in diaries. Their voices offer a view into the struggle of a community and its young to live in spite of the most difficult circumstances.
Excerpt
"They told us to sit in the corner and let us cut circles from a material to make shoulder pads. We were a group, maybe ten children, different ages. There were younger children than me as well. And they ordered us to cut these circles."
—Karolina Dresler, age 14, fall 1941
Karolina's Story
Karolina Dresler was born in Lodz in December 1927, the younger sister of Teresa-Tauba Dresler. Their father, Mordechai, was an upholsterer-decorator and the family was doing quite well financially. They lived on the main street in Lodz, Piotrkowska Street. The girls were well taken care of by their parents. Home and school were central to their lives. When the order of to wear the yellow Star of David was issued, Karolina was scared to walk in the street. Soon after, the family was forced to leave their beautiful apartment and move into the Lodz ghetto. At first it seemed like an adventure, but when she saw the miserable conditions in the ghetto she realized the reality of the new situation. Karolina remembers well that she could not take her dollhouse with her.
Karolina started to attend middle school in the ghetto (her signature is # 12,648 in the album), but her sister had to go to work. After the fall of 1941—when the schools were closed—Karolina started to work in a sewing workshop. She was also part of a group of children who received some vocational training in the workshop. Mr. Glazer, the head of the workshop, organized the "little school" for the children to learn sewing and cutting, along with some math, Yiddish, and poetry as well. During work, for two years, Karolina made round shoulder pads.
Karolina's father died in July 1942 when she was 14 years old. For Karolina his death symbolized the end of her childhood. During the Gehsperre Aktion in the Lodz ghetto, Karolina's mother decided that she and her two daughters should go into hiding. They hid in a small attic for a day or two and then changed their hiding place to a destroyed house across the street.
Karolina belonged to a youth organization, mainly to escape the home reality—the grueling housework that her mother, Sonia, demanded in order to maintain discipline and hygiene.
In August 1944, Sonia Dresler and her two daughters—Karolina and Teresa—were deported from the Lodz ghetto to the Auschwitz-Birkenau killing center. The two young women were selected for forced labor, while their mother was murdered on arrival. They were transferred to series of slave labor camps. Karolina was finally liberated in Halbstadt (today: Mezimesti, Czech Republic) on May 8, 1945. She returned to her hometown, Lodz, where she was reunited with her sister Teresa.
In 1957 Karolina Dresler Ciesla, her husband, and two daughters immigrated to Brazil, while her sister Teresa and her husband Alexander Klugman immigrated to Israel. The two families were reunited in 1961, when the Ciesla family immigrated to Israel to live close to her sister and her family.
Series:

Young Diarists from the Lodz Ghetto
Critical Thinking Questions
Why are diaries an important part of the historical record?
What makes children's diaries distinct?
How are some of these accounts different from that of Anne Frank?
Investigate the experiences of children in the ghettos.