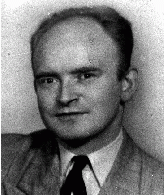 Abraham Wijnberg
Born: May 14, 1916
Leek, Netherlands
Abraham, or "Braham" as he was nicknamed, was the oldest of four children. When Braham was 14, his Jewish parents moved to the town of Zwolle, where they built a kosher hotel. Braham attended Dutch public schools. Monday through Thursday afternoons he also went to religious school where he learned Hebrew, Jewish history and the Bible.
1933-39: Abraham felt that it was a shame that he had to forfeit a scholarship to college in Groningen, but he had to stay in Zwolle to help his parents with the hotel. Abraham, his brothers, and his sister enjoyed singing and dancing together. Abraham's dancing was so good that he was employed as a "dance master," a position that was sanctioned by the Dutch government for all public dancing functions. He gave lessons in all kinds of dance, including folk dance and the rhumba.
1940-45: On May 9, 1940, Abraham married Judic de Vries from Utrecht. The very next day Germany invaded the Netherlands, and he went off to fight with the Dutch army. But only a few days later, on May 14, the Netherlands surrendered. Abraham returned to his wife and they went into hiding at the home of a Christian family. During that time, Judic gave birth to their four children, all of whom survived the war. While they were hidden, his family in Zwolle was forced to leave the hotel when it was confiscated by the Germans in 1941.
Braham and his wife remained in the Netherlands after the war and were able to regain ownership of the Hotel Wijnberg. In 1956 the family immigrated to Canada.