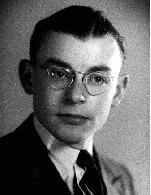 Maurits Wijnberg
Born: January 11, 1918
Leek, Netherlands
Maurits was one of four children born to religious Jewish parents living in the town of Leek. When he was 12, the Wijnbergs moved to the town of Zwolle, where they ran a kosher hotel. That same year, Maurits became ill with meningitis. After he recovered, he worked hard to compensate for missed school and became an exceptional student.
1933-39: Along with his younger sister, Maurits was active in the local Zionist organization. One of the group's activities was raising money for Palestine [Yishuv]. Every Sabbath, when Maurits' parents went out walking with his sister, Maurits and his brothers would play cards. This was not permitted on the Sabbath, so when the parents returned, the boys would quickly throw the cards under the table.
1940-43: After Maurits' father died in April 1941, Maurits helped his mother run the hotel. He and his sister would rise early to make breakfast for the guests. In 1942 the Germans confiscated the hotel [Aryanization] and the Wijnbergs were forced to move to a small shack. Maurits married his girlfriend, Bep Jacobs, in August and together they went into hiding. But when they heard a rumor that their relatives might be deported if they continued hiding, they came out. In September 1942 Maurits was deported to a labor camp in the Netherlands.
On January 31, 1943, Maurits was deported from the labor camp to Auschwitz, where he perished. He was 25 years old.