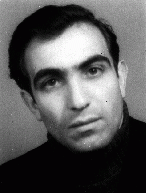 Abram Kisielnicki
Born: 1918
Kaluszyn, Poland
The oldest of three children, Abram was born to Jewish parents in the small, predominantly Jewish town of Kaluszyn, 35 miles east of Warsaw. Abram's father owned a wholesale grocery store, a restaurant and a gas station, all of which were located on the heavily traveled main road. Abram went to public elementary school and also received religious instruction.
1933-39: Abram was 21 when the Germans invaded Poland. Abram, his father, and his brother Majlech fled eastward towards the Soviet Union because they were afraid that the Germans would send them away to forced labor. When they heard that German forces had engaged Polish troops in a battle at Kaluszyn and that their town had been heavily bombed, they had to return home to see if Abram's mother and sister, Chaie Sura, were safe.
1940-44: When the Germans entered Kaluszyn, Abram's house, which was on the outskirts of town, wasn't bombed and he found his mother and Chaie Sura unhurt. Acting under Nazi orders, the town mayor chose 10 men, including his father, to be on the Jewish council. His father chose Abram to be on the Jewish police force. Abram's job was to keep order in the Jewish ghetto and to make sure that everyone respected the curfew hours.
Abram escaped to Warsaw in late 1942. In May 1943 he was deported to a camp at Majdanek and later to Skarzysko and Buchenwald. After the war, he emigrated to the United States.