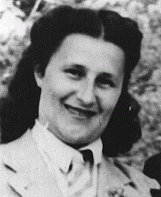 Chava Cherniak Biber
Born: April 20, 1916
Chelm, Poland
Chava's mother died when she was 2, and Chava went to live with her grandfather, who was a rabbi in the village of Matsiov. Her grandfather's second wife welcomed Chava. After first studying at a Polish public school, Chava attended a Jewish day school. When Chava was a teenager her adopted grandmother died, and Chava took over managing her grandfather's household until he remarried.
1933-39: Chava's grandfather's third wife was an unsympathetic woman. After she came to their home, Chava wanted to be independent and learn a trade, but her grandfather opposed this. She immersed herself in activities of the Young Pioneers, a Zionist organization, where she met Yakov Biber, whom she married in 1939. Chava and Yakov's plans for the future were destroyed that year in the fall when the Soviets occupied eastern Poland.
1940-44: By 1941 the Germans had occupied the region [German-Soviet Pact] and, aided by the Ukrainian militia, began murdering the Jews. For several months Yakov and Chava and their 2-year-old son, Shalom, hid with the help of some local peasants. One Saturday afternoon, as they were hiding in the woods, they suddenly heard: "Run! Militia!" Bullets rained. Yakov picked up Shalom, grabbed Chava, and started to run. Shalom screamed and when Yakov tried to cover his mouth, he lost hold of Chava. As Yakov turned to grab her again, a bullet hit Shalom, and their son fell.
Shalom was killed. For the next three years, Chava and Yakov remained in hiding. After the war, they started a new family. The Bibers immigrated to the United States in 1947.