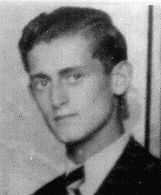 Dezider Gruenberger
Born: May 29, 1922
Kosice, Czechoslovakia
Dezider was the oldest of three children born to Hungarian-speaking Jewish parents in the city of Kosice in the southeastern part of Czechoslovakia known as Slovakia. As a young boy, he attended a Jewish elementary school. His father was a tailor whose workshop was in the Gruenberger's small apartment.
1933-39: After Dezider finished elementary school, he entered secondary school with a view to going on to the university. The language of instruction was Slovak, and Jews faced no discrimination until November 1938 when Hungarian troops marched into southern Slovakia. With Germany's blessing, Kosice became part of Hungary and was renamed Kassa. Their new Hungarian rulers introduced anti-Jewish laws.
1940-44: Dezider managed to finish his secondary education in 1940, but because he was Jewish he wasn't allowed to go on to the university. In 1941 the Hungarians interned his family because they were considered "aliens." Two years later, Dezider became a forced laborer for the Hungarian army. He was put to work in the Carpathian mountains building defenses, mining roads, and carrying ammunition. A year later, when they heard that the advancing Soviet army was nearby, Dezider and his friend took heart and escaped. They were hidden by a peasant.
Dezider was liberated near Munkacevo by Soviet troops on October 28, 1944. After the war, he returned to Czechoslovakia. He immigrated to the United States in 1968.