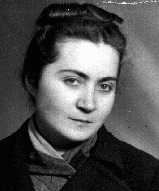 Fryda Litwak
Born: August 20, 1916
Lvov, Poland
Fryda was one of five children born to religious Jewish parents in the industrial city of Lvov. She grew up in the same building as her paternal grandparents. Fryda attended public and private schools in Lvov, and grew up in a non-Jewish neighborhood, speaking Polish, German and Yiddish.
1933-39: When Fryda finished secondary school, she could not go to the university like her older siblings because Polish universities had instituted discriminatory quotas for Jews. In September 1939 the Germans invaded Poland from the west and the Soviets came from the east, occupying Lvov in late September. Until 1941, Soviet rule spared Fryda and her family from German occupation.
1940-44: After the Germans occupied Lvov in 1941, Fryda's brother-in-law bought her a false ID. As a Polish Catholic named Zofia Wolenska, she left Lvov in 1942 and found work in Cracow [Krakow] as a maid. She later worked as a clerk at a pharmacy in the town of Bochnia, where her employer harrassed her sexually; he suspected that she was Jewish and threatened to report her to the Germans. She ran away, and went to Germany where she hoped no one would recognize her. In 1944 the Germans deported Fryda to a forced-labor camp.
Fryda was killed near the end of the war during an Allied bombing of the forced-labor camp at Gelsenkirchen. She was 28 years old.