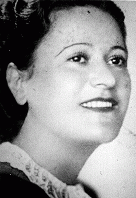 Ilona Haas Geroe
Born: 1909
Szeged, Hungary
Ilona was one of seven children born to a Jewish family in the city of Szeged, about 100 miles south of Budapest. Her father was an accountant. At the turn of the century many of Ilona's father's relatives emigrated to the United States, but Ilona's father decided to stay. Ilona also became an accountant and got a job in Szeged.
1933-39: Ilona's work as an accountant kept her busy but her free time was spent enjoying music and sports. She also began to study English since so many of her relatives had emigrated to the United States. Beginning in 1938, the Hungarian government, which was sympathetic to Nazi Germany, enacted anti-Jewish laws.
1940-45: In 1941 Ilona married Istvan Geroe, and together with Istvan's son from a previous marriage they moved to Torokszentmiklos. Ilona helped her husband in his family's grain export business. In March 1944, when Germany occupied Hungary, the Geroes' business was confiscated. Ilona and her family were arrested and taken to a makeshift ghetto located at a sugar factory near Torokszentmiklos. There, Hungarian policemen beat Ilona, believing she was hiding valuables.
Ilona and her family were deported, via Strasshof, to the Lobau labor camp near Vienna. The Geroes were liberated there by the Red Army in April 1945.