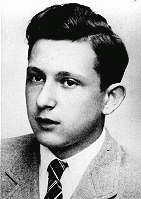 Janos Geroe
Born: 1929
Torokszentmiklos, Hungary
Janos was the only child born to a Jewish family in the small agricultural city of Torokszentmiklos, about 65 miles southeast of Budapest. His father, who had a degree in pharmacology, joined his family's grain exporting business.
1933-39: In 1933, when Janos was 4 years old, his parents divorced. According to Hungarian law, Janos was to live with his mother until he was 7 and then return to his father. Janos moved with his mother to her hometown of Szentes, where he began studying at a religious primary school. Beginning in 1938 the Hungarian government, which was sympathetic to Nazi Germany, began enacting anti-Jewish laws.
1940-45: In 1940 the Hungarian army forcibly conscripted thousands of Jewish males into labor brigades. Janos' father was exempted because pharmacists were needed. In 1941 Janos' father married Helena Haas. Three years later, in March 1944, Germany occupied Hungary. Janos and his family were arrested by Hungarian police and taken to a makeshift ghetto located at a sugar factory near Torokszentmiklos. They were then deported, via Strasshof, to the Lobau labor camp in Austria. Janos was put to work re-laying pipes for an oil refinery bombed by Allied planes.
Janos and his family were liberated from Lobau by the Red Army in April 1945. His family remained in Hungary until 1956, when they immigrated to the United States.