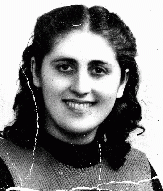 Olga Gelb
Born: January 26, 1925
Khust, Czechoslovakia
Olga was born to religious Jewish parents in a small city in Ruthenia. The country's easternmost province, Ruthenia had been ruled by Hungary until 1918. One of eight children, Olga grew up in a prosperous home in which both Yiddish and Hungarian were spoken. Her father worked as a wholesale leather merchant. Olga attended both public school and a Hebrew girls' school.
1933-39: Under Czech rule I could be religious and not face discrimination at school. My parents were pleased when Ruthenia became a province of Hungary in March 1939; they passed out cigars to the Hungarians. But I was saddened when Hungarians replaced my Czech teachers. To avoid the antisemitism of the Hungarian teachers, I quit school when I was 14. Before a year passed, my father was forced to sell his business to a Hungarian.
1940-44: Deported to Auschwitz in 1944, I was put to work assembling grenades. My girlfriends and I engaged in sabotage by allowing defective hand grenades to go through. Our haughty, beautiful Kapo delighted her SS boyfriend by beating us while he watched. One Sunday while she was lying in the sun near the barracks, we covered her with a blanket, stomped on her head and pounded her with stones. Her murder went unpunished--to the Nazis, she was just a Jew, and since she'd had sexual relations with a German, a criminal.
Olga was transferred to Ravensbrueck in January 1945 and was finally liberated near Berlin by Soviet troops in April 1945. She immigrated to the United States in 1949.