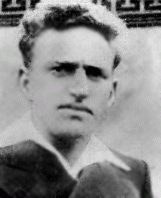 Samuel Zoltan
Born: 1912
Transylvania, Romania
Samuel's parents immigrated to Palestine when he was very young. They lived in Rishon le Zion, the first settlement in Palestine founded by Jews from outside of Palestine. After graduating from high school, Samuel became active in a movement challenging the British mandate in Palestine.
1933-39: Samuel was expelled from Palestine in 1936 because of his outspoken criticism of the British mandate. He went to France and then to Spain just after the civil war began. Samuel fought for three years with the Spanish Republicans against the fascists. The Republicans were defeated, and Samuel returned to France, where he was interned by the French at the Gurs detention camp for foreigners. He escaped and headed for Paris.
1940-44: In 1940 Samuel joined the armed resistance group, Franc-Tireurs et Partisans. He smuggled explosives into Paris to use in sabotage against the German army. In July 1942 he arrived at the East Paris train station with two suitcases full of explosives. Two policemen grabbed him. He ran, but was shot in the legs and arrested. After two months his wounds healed. Then, on crutches, he was led daily to the prison basement to be questioned and tortured.
Samuel refused to divulge information. He died under torture at the age of 34.