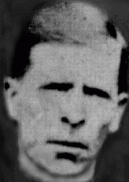 Shlomo Szczupakiewicz
Born: 1899
Malkinia, Poland
Shlomo was the youngest of four brothers born to a Jewish family in the northern Polish town of Malkinia. During World War I, Shlomo served as a male nurse. After the war, he worked as a grain merchant in the Malkinia area, just as his father had. In 1929 he married Pesia Ander, and a year later their first child, Ida, was born.
1933-39: In September 1939, before the invading Germans reached Malkinia, Shlomo fled with his family to the countryside. Exhausted, they returned to their house in Malkinia only a few weeks later. Shlomo then learned that a childhood friend had become a Nazi informant and decided that it would be safer for the family to go to the Soviet zone. Fortunately, Malkinia was close to the border between German- and Soviet-controlled Poland.
1940-44: Shlomo and his family crossed to the Soviet zone, to Pesia's brother's house in Nur, 12 miles away. Food was scarce so they traveled north to Bialystok. With other refugees who were Polish nationals, the Szczupakiewiczs were deported from Bialystok by the Soviets. The family was packed into a cattle car, and rode for 16 days in the freezing cold with water but no food. They arrived in Sverdlovsk in the Ural Mountains, and were settled in a logging camp in a one-room shack with little food and no fuel.
Shlomo and his family spent the rest of the war in the Soviet Union, where his daughter Bessie and son Josef were born. In December 1945, Shlomo died from illness.