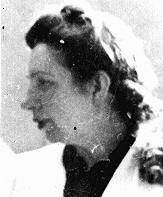 Aranka Ecksdein Muhlrad
Born: June 29, 1894
Tyrnau, Czechoslovakia
Aranka was the youngest of 10 children born to Jewish parents living in the highlands of Slovakia. While visiting Budapest to attend her sister's marriage, she was introduced to Jeno Muhlrad, a pharmacist. They were married and the couple moved in with Jeno's father and sisters who lived in Ujpest, a suburb of Budapest. Aranka had two children--Eva, born in 1924, and Andras, born six years later.
1933-39: My husband has leased his own pharmacy in downtown Ujpest so we can finally afford to move into our own apartment. It's a modern place with running water and central heating. During the day I help Jeno in his pharmacy, and in the evening I listen to Eva and Andras recite their lessons. I'm worried Eva might not be accepted into the university because only a few Jewish applicants are admitted every year. She studies doubly hard.
1940-44: After three hellish days in a cattle car, we have arrived at Auschwitz. We were deported here three and a half months after the Germans invaded Hungary. Eva and I were immediately separated from Jeno and Andras. The guards ordered us to take off all our clothes and enter the showers. Then our hair was cut. As someone clipped my dear daughter's thick, reddish-tinged locks, I couldn't help crying: Oh Eva, your beautiful hair!
Aranka was among some 435,000 Hungarian Jews deported to Auschwitz in the early summer of 1944. She was later moved to a camp at Bergen-Belsen, where she perished.