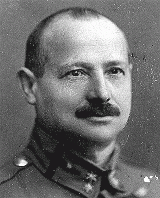 Bernard Krakauer
Born: May 2, 1871
Mikulov, Czechoslovakia
Bernard was one of seven children born to a German-speaking, Jewish family in the small Moravian town of Mikulov in the central part of Czechoslovakia. The family later moved to the town of Hodonin where Bernard opened a dry-goods and clothing store. In 1899 he married Berta Koselova, and the couple had six children. During World War I Bernard served in the Austro-Hungarian army.
1933-39: In 1938 Bernard retired, and since none of his sons wanted to take over the business, Bernard sold it. He, his wife, and their son Max, who had been born with a heart condition, moved to the Moravian capital of Brno. The Germans occupied Bohemia and Moravia in March 1939 and quickly imposed restrictions on the Jewish population: Jews were required to register their valuables and prohibited from using public transportation.
1940-45: On April 8, 1942, Bernard, his wife and their son Max were ordered to assemble at a school and to bring no more than 44 pounds of luggage each. They were deported to the Theresienstadt ghetto in Czechoslovakia. From there, Max was deported to Poland. Bernard and his wife later discovered that a sister-in-law of their daughter worked in Theresienstadt's SS registry office; this woman made sure that the Krakauers' papers remained at the bottom of the pile of documents of those to be deported.
Bernard and Berta were freed in Theresienstadt in May 1945. They returned to Brno and learned that three of their children, including Max, had died in Nazi camps.