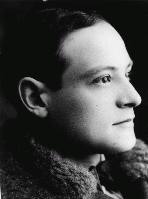 Felix Krakauer
Born: April 1, 1902
Hodonin, Czechoslovakia
Felix was one of six children born to Jewish parents in a small Moravian town, where his father ran a dry goods and clothing store. The family spoke Czech and German at home and Felix attended German-language schools. As a youth, he belonged to a Zionist club and liked to ski. He graduated from an international trade school in Vienna before settling down in the Moravian capital of Brno.
1933-39: During the 1930s Felix married a Christian woman from the town of Hodonin. When Felix's father retired in 1938, Felix declined his father's offer to take over the family's dry-goods business. In March 1939 the Germans occupied Bohemia and Moravia and imposed restrictions on the Jews. Felix was dismissed from his job because he was Jewish, and his wife divorced him.
1940-45: For two years, Felix was put to work as a forced laborer for the Germans. When ordered to report for deportation to the Theresienstadt ghetto, he did not appear. Instead, with the help of his Czech cleaning lady, he staged his own suicide by throwing his clothing in the Svratka River and leaving a farewell letter. For the next three years, Felix and two friends hid in a secret cellar that had been dug out under the barn of the cleaning lady's farm near Brno.
Felix was liberated by Soviet troops in May 1945. In 1966 he emigrated from Czechoslovakia and settled in Australia in 1967.