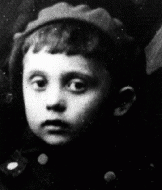 David Morgensztern
Born: 1925
Kaluszyn, Poland
The second of four children, David, or Duvid as he was called by his family, was born to Jewish parents living 35 miles east of Warsaw in the small predominantly Jewish town of Kaluszyn. David's mother and grandmother ran a newspaper kiosk in town, and his father worked as a clerk in the town hall. David attended public elementary school.
1933-39: War has broken out between Poland and Germany. Many people are afraid of what might happen if the Germans occupy Poland and have decided to flee to the Soviet border, 83 miles east. My cousins, Majlech and Abram, have left with their father in his truck, and my older brother Josel, who is 17, will soon be leaving with a group of his friends. Even though I'm 14, my parents say I'm not old enough to go.
1940-44: We've moved to Minsk Mazowiecki, 10 miles from Kaluszyn, to live with my father's relatives because our house was destroyed by shelling during a battle between German and Polish forces. At first, living here wasn't so bad, but now the rooms are too crowded. The Nazis have forced more than 5,000 Jews in Minsk Mazowiecki to relocate to one small area of the town. There aren't enough houses for everyone, so families are doubling up. Typhus, carried by lice, has started to spread.
In 1942, 17-year-old David and his family fled to Kaluszyn to escape deportation. Soon after, however, most of the Jews in Kaluszyn were deported to the Treblinka killing center.