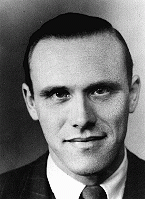 Dr. Johan Hendrik Weidner
Born: October 22, 1912
Brussels, Belgium
Johan was the eldest of four children born to Dutch parents. His father was a minister in the Seventh-Day Adventist Church. Johan grew up in Collonges, France, where his father served as a pastor. After attending French public schools, Johan graduated from the Seventh-Day Adventist Seminary in Collonges, and went on to study law and business at the universities of Geneva and Paris.
1933-39: After completing his studies in 1935, Johan opened an import/export textile business in Paris. Business prospered and three years later he also opened a shop in Collonges. The town was near the Swiss border, and Johan liked to go mountain climbing. Around this time he went to Geneva to attend sessions of the League of Nations, and he saw firsthand how ineffective that body was in preventing the outbreak of war in 1939.
1940-44: Germany invaded France in May 1940. Johan moved to Lyon to help organize the "Dutch-Paris" underground network to help Dutch Jews and political refugees to escape to Switzerland and Spain. In February 1943 he was arrested. During Johan's interrogation by the Gestapo, a guard repeatedly held his head in water until he almost drowned. Then Johan was forced to kneel on the edges of steel rulers. He was released, but was later caught in a roundup of men to be sent to Germany as slave laborers. He jumped off the train and hiked to Switzerland.
Johan fought in the Dutch army during the final months of the war. After the war, he served in the Dutch diplomatic service. In 1955 he immigrated to the United States.