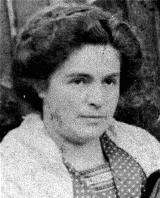 Ema Schwarzova Skutezka
Born: September 6, 1876
Unicov, Czechoslovakia
One of two children born to religious Jewish parents, Ema was raised in the small Moravian town of Lomnice, where her mother ran a general store. In 1901 Ema married Eduard Skutecky, a regular customer at her mother's store. The couple settled in the city of Brno, where they raised three children. Eduard ran a shipping company.
1933-39: By 1933 Ema's three children were grown and had moved out. Four years later her husband passed away, and Ema moved in with her eldest daughter, Elsa. Elsa and her husband were running the Skutezka family's shipping company. In March 1939 the Germans occupied Bohemia and Moravia and Brno fell under German rule. The Germans immediately imposed restrictions on the Jewish population.
1940-42: On January 2, 1940, Ema, her daughter Elsa, her son-in-law and her grandson were evicted from their house because they were Jewish. That same winter Ema's two younger children managed to immigrate to Palestine [the Yishuv]. A year later, Elsa was forced to sell the family business to a German for a mere 200 Czech crowns or less than $10. On March 31, 1942, Ema and her daughter's family were deported to the Theresienstadt ghetto in western Czechoslovakia.
On May 9, 1942, Ema was deported to the Sobibor killing center and gassed. She was 65 years old.