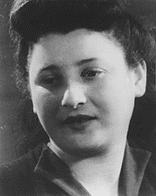 Eva Miodelska
Born: October 27, 1926
Lipsko, Poland
Eva was the oldest of four children born to a Jewish family in the central Polish town of Lipsko, about 30 miles southeast of Radom. The family lived at #12 Casimirska Street and Eva attended a private Jewish primary school. Eva's father owned a factory that produced shoes made from leather and cork.
1933-39: In the early 1930s I began secondary school in Zwolen, a town about 20 miles to the north. In 1936 my father left for Argentina to settle the estate of his deceased sister. For the two years he was gone, Mother brought my sister and brothers to Zwolen to live with my grandparents. Father returned in 1938, and a year later, on September 1, 1939, Germany invaded Poland, reaching Lipsko in the second week of September.
1940-44: In 1942 I was deported to a labor camp at Skarzysko-Kamienna, where for 12 hours a day I removed lacquered bullet casings from a roaring oven. The heat would make me fall asleep, and production would be halted. I knew that if I wanted to live, I had to transfer to another job. Working in the kitchen was good because you could get extra food. I had a dentist in the camp remove, without anesthesia, a diamond I'd hidden in one of my teeth, and I used the 1,500 zlotys I got for it to "buy" a job in the kitchen.
In 1944 Eva was deported to a labor camp in Leipzig. In April 1945 Eva escaped from a death march and was hidden by a German family. She was liberated by Soviet troops.