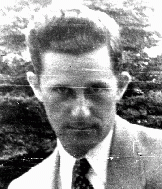 Fred Bachner
Born: September 28, 1925
Berlin, Germany
Fred was born to a Jewish family in the German capital. Berlin's Jewish community was large--approximately 170,000 by 1933--and the city was the seat of most of Germany's national Jewish organizations. Fred's family owned a successful clothing factory. He attended a Jewish public school in Berlin.
1933-39: In 1938 the Germans began deporting Polish citizens. Both Fred's parents were Polish by birth, but only his father and brother were sent to Poland. Fred and his mother remained in Berlin until their emigration was approved in June 1939. After finding his father and brother, they settled near Krakow. By early September Germany invaded Poland. They fled to the countryside but were overtaken by German forces who ordered them back to their town.
1940-45: Once the Germans controlled his area, Fred was forced to register for a work detail. After working near the town for some time, he was deported to several camps, and eventually to Auschwitz. There he was assigned to check shoes for hidden valuables. The Nazis had found out that some Jews from Belgium and the Netherlands were hiding diamonds and gold in the soles of their shoes. Before these people were gassed, their shoes were brought to Fred and guards watched as he tore open the shoes. He was ordered to turn in whatever he found.
Fred escaped from a transport train that was ambushed by Allied forces. He was liberated by the U.S. Army in the spring of 1945.