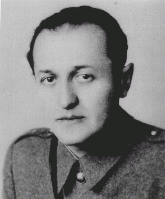 Frederic Bernard
Born: August 7, 1912
Cernauti, Romania
Frederic was born to a Jewish family in Czernowitz (Chernovtsy). His father was head clerk in a lawyer's office and his mother was a pianist. Frederic's parents were active in Czernowitz's sizable Jewish community. In 1930 Frederic began medical studies at the German University in Prague, Czechoslovakia.
1933-39: I left Prague in 1933. I went to France and then Italy to finish my studies and graduated in 1936. I wanted to leave Europe to escape Hitler and tried to do so by applying to the British Medical Council for membership. But the plan never panned out. From Italy I returned to Czernowitz, then part of Romania, and obtained a license to practice medicine in Romania.
1940-44: In 1940 I married Gusti Klier. As the Nazis advanced in 1941, we were deported to Transnistria. From there we tried to escape to Hungary but were caught in southern Poland in the town of Koroluvka, where there was a Jewish ghetto. I got permission to live and practice medicine outside the ghetto in the nearby town of Bilcze Zlota. In April 1942 I returned to the ghetto in Koroluvka. When the ghetto was liquidated I survived by hiding in an attic and then slipping away to the forest, where I was sheltered by members of the Polish underground. In 1943 I joined a join a Soviet partisan group led by led by Sidor Kovpak.
In 1944 Frederic joined the newly formed Second Polish Army. After the war, Frederic lived for several years in Italy. In 1949 he and his wife immigrated to the United States.