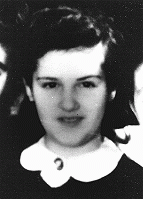 Genya Rotenberg
Born: August 1, 1930
Lodz, Poland
Genya and her brother, Nahum, were raised by Jewish parents in Lodz, Poland's second-largest city and an industrial center. Before the war, one-third of Lodz's inhabitants were Jewish. Genya's parents placed emphasis on their children's education.
1933-39: In 1939, when Genya was 9, the Germans occupied Lodz. After that, it was forbidden for "Jews, Gypsies and dogs" to be in public places. Since Jews weren't allowed to go to school, her parents arranged to tutor her secretly at home, but she couldn't keep her mind on her books. One day, the Germans took her grandfather outside and ordered him to do exercises. He couldn't do them, so the Germans took a match and burned off his beard.
1940-45: Genya and her family fled to Warsaw. Later, she escaped through the ghetto's sewage pipes to a family who hid her. But they were abusive, so Genya returned to her parents. In 1941 her father was sent to a labor camp for men. Since her mother had disappeared, Genya dressed as a boy and went with him. In the camp, while the men worked, she would hide in the bed, holding her breath as officers searched for stragglers. Under the covers, Genya would break up her bread ration into meals. She hid this way for weeks until women were brought to the camp.
In 1946, when she was 16, Genya immigrated to Palestine with a group of orphans from the Bergen-Belsen concentration camp. Her father joined her a year later.