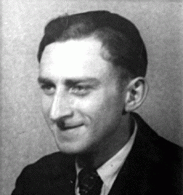 Gerd Jacob Zwienicki
Born: March 25, 1917
Bremen, Germany
Gerd was the eldest of four children. His father, Josef, had left Ukraine in 1913 and opened a bicycle sales and repair shop in Bremen. His mother, Selma, was descended from a distinguished Jewish family and had been a kindergarten teacher and a bookkeeper for a large firm. As a child, Gerd experienced the hardships of the Depression and witnessed the violent street fights between the Nazis and their political opponents, the Communists and Socialists.
1933–39: When the Nazis came to power in 1933, Gerd was in high school. Most of the teachers now openly supported the new regime. Courses in "race science" were incorporated into the curriculum. After graduation, Gerd began rabbinical studies in Frankfurt am Main and later at the Jewish Teachers' Seminary in Wuerzburg. On November 9–10, 1938, Kristallnacht ("The Night of Broken Glass"), Gerd was arrested and held for eight days in the Wuerzburg jail. Upon his return to Bremen, he learned that his mother had been murdered by the Nazis and that his brother, Benno, had been sent to the Sachsenhausen concentration camp. In 1939, after negotiating with the Gestapo (the secret state police), Gerd set up a school for Jewish children who had been prohibited from attending all German educational institutions.
1940–45: After leaving Germany on May 31, 1939, the Zwienicki family settled in Canada, where their father had a relative. Gerd later entered the United States on a student visa and began attending the Baltimore Rabbinical College. There he joined some of his former Würzburg classmates who had found refuge in America. In 1944 he was ordained as a rabbi and took a position at the Hebrew National Orphan Home in Yonkers, New York. There he helped boys whose parents had either died or could no longer care for their children. Many of these children were younger fellow refugees.
After the war ended, Gerd continued his studies, which had been interrupted in Germany, and eventually earned a Ph.D. in Human Development and Social Relations from New York University. He became a social worker for the New York City Department of Human Resource Administration and authored many papers on child welfare. In 1948 he married Trudel Farntrog, who had come to England from Germany on a "children's transport" in 1939. The couple have 3 children, 17 grandchildren, and 2 great grandchildren.