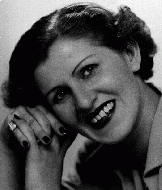 Gertrud Gruenbaum
Born: March 26, 1917
Vienna, Austria
Born to a Jewish father and a Catholic mother, Gertrud grew up in Vienna. Trude, as she was affectionately called, attended a public secondary school, where half of her classmates were Jewish. At age 7 she rejected music lessons for classes in dancing and acting. Trude wanted to be like Greta Garbo. She launched an acting career at age 18, assuming the stage name Trude Hermann.
1933-39: Because I was Jewish I couldn't get acting jobs in Austria and nearby Sudetenland. In 1937 my agent found me work in Italy; I stayed there after Germany annexed Austria in March 1938. A friend advised me to cast an absentee ballot for Hitler for "practical reasons." After all, no Nazi would expect a Jew to vote for him. My voting was recorded on my passport, later enabling me to prove German citizenship.
1940-44: When the Germans occupied Italy in September 1943, the Italians refused to hand over the Jews. Since in Germany Gruenbaum wasn't necessarily a Jewish name, the Germans didn't realize I was Jewish. They gave me the choice of "returning" to Germany or serving them in Italy. After I swore by the life of their beloved Fuehrer that I was an Aryan, they hired me as an interpreter. When the Allies neared Rome, I went into hiding because the Germans wanted me to retreat north with them.
Trude was liberated by American troops on June 4, 1944. She immigrated to the United States in 1950.