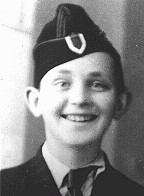 Gyula (Gyuszi) Brieger
Born: April 15, 1927
Nagyhalasz, Hungary
Gyula was also known as Gyuszi. He was born into a large religious Jewish family in the village of Nagyhalasz in northeastern Hungary. The Briegers spoke both Yiddish and Hungarian. After Gyula's mother died, his father remarried and the family moved to the town of Nyiregyhaza, where his father owned and operated a hardware store. Nyiregyhaza had a Jewish population of 5,000.
1933-39: Gyula was the second oldest son in a household of seven children. Nyiregyhaza was a rural town in which people still used horses and buggies. After Gyula's older brother, Jeno, went away to study at a rabbinical school in Czechoslovakia, Gyula became the eldest son in the house and his father's main helper.
1940-44: Gyula was 17 when German forces occupied Hungary on March 19, 1944. Within weeks, 17,000 Jews from Nyiregyhaza and nearby towns and villages were moved into a ghetto set up by Hungarian officials. In May deportations from the ghetto to Auschwitz began. At Auschwitz, Gyula, his father and Jeno were slave laborers. While in the camp, Gyula learned how to steal food from the Germans. He and Jeno were later moved to the Bergen-Belsen concentration camp.
Gyula died in Bergen-Belsen in April 1945, several days after the camp was liberated by British troops. He was 18 years old.