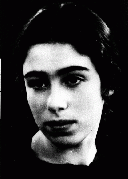 Helga Leeser
Born: 1928
Muenster, Germany
The older of two sisters, Helga was raised by prosperous, non-religious Jewish parents in the small Catholic town of Duelmen in western Germany. Her family owned a linen factory. Before marrying Helga's much older father in 1927, her mother had been a Dutch citizen. As a child, Helga looked forward to vacations in the Netherlands with its comparatively relaxed atmosphere.
1933-39: At age 6 I began attending a Catholic elementary school. Antisemitism wasn't a problem till the night of November 9, 1938 [Kristallnacht, Night of Broken Glass], when Nazis from a nearby city vandalized our town's Jewish properties. Father raced downstairs and was arrested; four days later, he committed suicide in his prison cell. Mother regained her Dutch citizenship and emigrated to the Netherlands. With my grandfather's help, my sister and I joined her.
1940-44: After the Germans occupied the Netherlands in 1940, I was forced out of school. In 1942 we avoided deportation by getting false papers saying we were Dutch Christians and by moving to Rotterdam where a Dutch couple hid us in their flat. We lived just two blocks from police headquarters. Because I was very Jewish looking, I had to stay inside. I spent my time reading and studying. Often we listened to the BBC. Our worst problem was the lack of food; by the end of 1944, we were reduced to eating mainly sugar beets.
After their liberation at the end of the war, Helga, her sister and mother remained in Rotterdam.