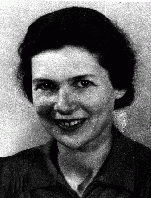 Ilse Luise Citroen Ledermann
Born: March 8, 1904
Berlin, Germany
Ilse was one of four children born to a Dutch-Jewish father and a German-Jewish mother. In 1924 she married Franz Ledermann, a successful lawyer who was 15 years her senior. The couple made their home in Berlin, where they raised two daughters, Barbara and Susanne.
1933-39: The Nazis came to power in January 1933. While the Ledermanns were vacationing in Holland that summer, Ilse's Dutch cousin advised her not to return to Germany. Franz was reluctant to remain in Holland without a job, but when the Nazis made it illegal for Jewish lawyers to have non-Jewish clients, he packed his belongings in Berlin and rejoined his family in Amsterdam, where they settled in an apartment on the city's south side.
1940-44: The Germans invaded the Netherlands in May 1940. Two years later, they began rounding up Jews for deportation. A friend of one of Ilse's daughters got false IDs for the entire family, but her husband Franz did not think the situation was dangerous enough to warrant going into hiding. Franz thought that going into hiding would be more dangerous than obeying German instructions and orders. Even though Ilse was inclined to go into hiding, she deferred to her husband's judgment.
On June 20, 1943, Ilse was deported to the Westerbork camp in the Netherlands. In 1944 she was sent to Auschwitz, where she perished. Ilse was 40 years old.