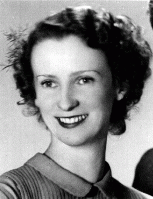 Irena Elzbieta Wos
Born: February 18, 1923
Warsaw, Poland
Irena was the second of four children born to religious Roman Catholic parents in Poland's capital of Warsaw. Irena's father owned a successful textile business. When Irena was 10, her family moved to a comfortable apartment near the Royal Castle and the Vistula River. In 1930 Irena entered a private grade school.
1933-39: At 14 I began secondary school. I was a good student and wanted to be a doctor. On September 1, 1939, the day I was supposed to begin the new school year, the Germans attacked Poland. A week later, Warsaw was surrounded . My brother and I manned lookouts to spot fires and German spies. On September 25 the six-story building next to ours was destroyed by German bombs. Three days later, our city surrendered to the Germans.
1940-44: I attended an illegal secondary school run at night by the underground. Then in 1943 I joined the resistance [Armia Krajowa] and became a courier. My job was to deliver informational fliers before and during our August 1, 1944, uprising in Warsaw. The battle went badly. As our fighters retreated from my neighborhood, I hid in a basement with my family. On September 2 the Germans found us. They destroyed our home and arrested us. I was deported to Spandau to be a slave laborer in a munitions factory.
On May 2, 1945, the third day of a forced march out of Spandau, Irena was liberated by Soviet troops. She emigrated from Poland to the United States in 1970.