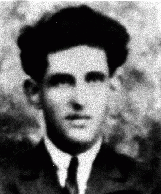 Josel Gerszonowicz
Born: 1908
Miechow, Poland
The oldest of eight children, Josel was born in Miechow, a small town in south central Poland. His father was a machinist and locksmith. As a boy, Josel spent long days learning Hebrew in the Jewish school and taking general subjects at the public school. He was 13 years old when he left school to work in his father's shop.
1933-39: Josel met his wife, Esther, through a matchmaker, and they settled in nearby Dzialoszyce, a town with a Jewish community of about 7,000, and a beautiful synagogue that had been built more than a hundred years earlier. Josel helped run a large wheat farm that belonged to Esther's widowed mother. The Germans invaded Poland and entered Dzialoszyce on September 6, 1939.
1940-44: In 1941 some 5,000 Jews from Krakow, Warsaw and other towns were deported to the Dzialoszyce ghetto. In 1942 the Nazis shot some 1,500 Jews and deported 9,000, including Esther and her mother. Josel escaped into the nearby forest and returned to Miechow. There, he repaired cars and trucks for the Germans until he was deported to Plaszow, a suburb of Krakow, where the Nazis had established a labor camp over a very old Jewish cemetery. Every day Josel left the camp to work in a factory where ammunition and cooking utensils were produced.
With the advance of the Soviet army, the Nazis evacuated Plaszow in the summer of 1944. Josel was deported to Mauthausen in Austria and died a few days before the camp was liberated.