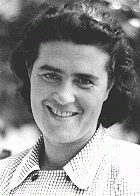 Klara Mintzberg
Born: December 7, 1915
Munich, Germany
Klara grew up in Rzeszow, a Polish city with a population of approximately 30,000. The Mintzbergs were observant Jews. Klara's mother supported the family by running their fabric store. Her father was an ardent Zionist. He dreamed of immigrating to Palestine and encouraged Klara to join a Zionist youth group.
1933-39: After finishing secondary school, I was elected to serve on the board of directors of Poland's Ha-No'ar Ha-Ziyoni youth movement; I was the only woman on the board. I studied education and psychology at the university and worked with the educator Janusz Korczak at his orphanage in Warsaw. When war broke out in September 1939, Rzeszow was occupied by German forces. With the help of members of my youth movement, I fled to the Soviet-occupied sector of Poland.
1940-45: I married in 1940 and moved to Lvov. My husband and I were wanted by the Soviets because of our Zionist activities, so we went into hiding. The Germans invaded Lvov on June 30, 1941, and began killing the city's Jews that same day. In 1942 we fled to Warsaw and lived with my mother and sister. We'd obtained false papers and were living as Christians, but my mother secretly observed Jewish traditions. One day we found a note under the door: "The gold crosses you wear don't help. We know you're Jews." We left that night.
With the help of a relative, Klara and her family went into hiding and survived the war. In October 1945 they sailed to Palestine [the Yishuv] aboard the "Transylvania."