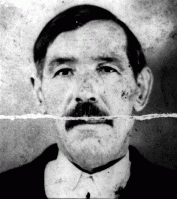 Kosta (Kojo) Naprta
Born: 1892
Podum, Yugoslavia
Kosta was the oldest of five children born to Serbian Orthodox parents in a poor farming village. Podum was on the slopes of Mount Um in the Croatian part of Yugoslavia. After finishing secondary school, Kosta immigrated to the United States. But when World War I broke out in 1914, he returned to Podum. In 1920 he married Anka, a Serb woman from his village, and they raised eight children.
1933-39: Kosta would read the newspaper to his friends and neighbors who could not read. He supported his family by raising food crops on his rocky farm and by doing odd jobs. His children all attended school. Podum's Serbs attended Orthodox church services every Sunday. They had good relations with their Catholic Croat neighbors in the larger village of Otocac, two miles away.
1940-44: On April 6, 1941, the Germans invaded Yugoslavia. Four days later, Croatian fascists came to power, aided by the Germans. The Croatians began pogroms against Serbs. Many Serbs fled their villages; some joined Serbian or Communist resistance groups. Kosta remained in Podum with his family. One evening in March 1944, a German officer was found dead on Podum's outskirts. The next day, Croatian fascists and German soldiers burned the village and killed all the Serbian men in the village they could find.
That same day, as the Naprtas stood in the snow watching their house burn, a German officer fired six bullets into Kosta, killing him in front of his family.