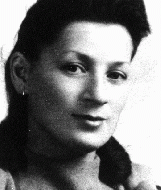 Lonia Goldman Fishman
Born: May 3, 1922
Wegrow, Poland
Lonia had three sisters and one brother. Her parents owned a cotton factory in the town of Wegrow. The Goldmans were a religious family, strictly observing the Sabbath, the Jewish holidays and the dietary laws.
1933-39: After studying all day at public school, Lonia attended a religious school for girls called Beis Yakov where she studied Hebrew, the Bible and Jewish history. Later, when she was in high school, a private tutor came to the house to teach her Hebrew. Lonia's favorite hobby was knitting. After finishing high school she learned the quiltmaking trade. The Goldmans moved to Warsaw in the mid-1930s when my father opened a down feather factory there.
1940-44: We were trapped in the Warsaw ghetto when it was sealed off in November 1940. There in the ghetto, at age 18, I married Sevek, a tailor. In 1942 Lonia and Sevek escaped to Wegrow, and then to a village near the town. A peasant couple, Jan and Maria, agreed to hide them. With bloody fingernails Lonia and Sevek dug a dank cellar "grave," lined it with straw, and lay motionless in the hole, concealed from danger for 18 months. Jan and Maria risked their lives by bringing them food and emptying their chamberpot every day. Once a week they sponged them down.
Lonia and Sevek were liberated by the Soviets in 1945. They had to relearn how to walk after their many months of confinement. In 1948 the Fishmans immigrated to America.