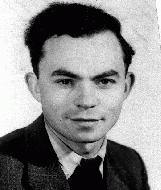 Sevek Fishman
Born: July 14, 1918
Kaluszyn, Poland
Sevek's religious Jewish family owned a haberdashery business in Kaluszyn, a suburb of Warsaw. The oldest of six children (three boys and three girls), Sevek completed high school and was then apprenticed to a tailor.
1933-39: Each Friday, before the Sabbath began, my mother asked the neighbors if they had enough food for the Sabbath. If they didn't, she brought them a meal. Although I belonged to a non-religious Zionist group, Ha Shomer ha-Tsa'ir, and didn't wear a skullcap like religious Jews, when I entered my parents' home I respected their wishes to cover my head--to defy them would have shamed my family.
1940-44: In 1940 my family was forced into the Warsaw ghetto, and I was married there that same year. After two years, my wife Lonia and I escaped to Lonia's town of Wegrow, and later to a village near the town. A peasant couple, Jan and Maria, agreed to hide us. With bloody fingernails we dug a dank cellar "grave," lined it with straw, and lay motionless, concealed from danger for 18 months. Jan and Maria risked their lives by bringing us food and emptying our chamberpot every day. Once a week they sponged us down.
Sevek and Lonia were liberated by the Soviets in 1945. After so many months in confinement, they had to relearn how to walk. In 1948 the Fishmans immigrated to the United States.