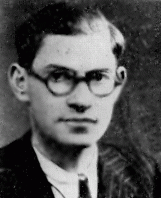 Mayer List
Born: October 10, 1907
Malkinia, Poland
Mayer was born into a Jewish family in a village near Warsaw. His family was active there in the workers' movement. They decided to emigrate when Mayer was a child; his father hoped to find work in Argentina. As a young man, Mayer was arrested for being a communist. In prison, he organized a hunger strike. The police released him to keep him from recruiting the other prisoners to communism.
1933-39: Mayer joined one of the International Brigades and went to Spain to fight in the civil war against Franco and fascism in 1936. With Hitler's and Mussolini's help, the fascists won. Mayer's brigade disbanded, and he escaped to France, where he continued fighting fascism.
1940-44: Hitler easily defeated France in June 1940. Foreign Jews, especially communists like Mayer, were now in double danger. The French suspected foreigners; the Nazis hated Jews. In 1941, with a number of other Jewish emigres, Mayer joined the armed French resistance group, Franc-Tireurs et Partisans. For two years he fought the Nazis but keeping ahead of the police was a swift and deadly game. Mayer dodged them as long as possible, but on September 20, 1943, he was caught and arrested.
Mayer was condemned to death October 1, 1943, at Fresnes Prison near Paris.